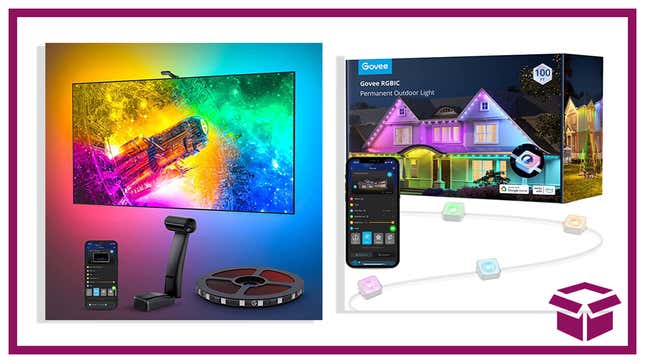 LED lighting — it's a whole mood. And whether you're color-washing the outside of your house or creating an immersive experience around your TV, Govee's got you covered. In honor of Prime Day, they're offering major discounts on two smart lighting set-ups that will transform the look of where you live. First, the TV backlight, which adjusts its color to match what's happening on your screen, extending the visual effects around your room in real-time. And second, the permanent outdoor lights, which create powerful, custom lighting effects for the outside of your house. Govee's slashing the prices on both items for a very short time, so check out the deals now — the backlight is $90 (down from $140) and the outdoor lights are $210 (down from $300).
Govee Envisual TV LED Backlight T2 | $90, down from $140 | Amazon
Govee Permanent Outdoor Lights | $210, down from $300 | Amazon
These items share a couple of key features that make them stand out among the competition. First, Amazon reviewers say they're really easy (like, really easy) to install. Second, they're fueled by smart technology, so you can control everything easily from your phone. And of course, these LED lights produce literally millions of different colors, meaning the effects you'll experience are unlimited. Like we said, these discounts won't last long, so check out the sale now — 36% off Govee's Envisual TV LED Backlight and 33% off their Permanent Outdoor Lights at Amazon.