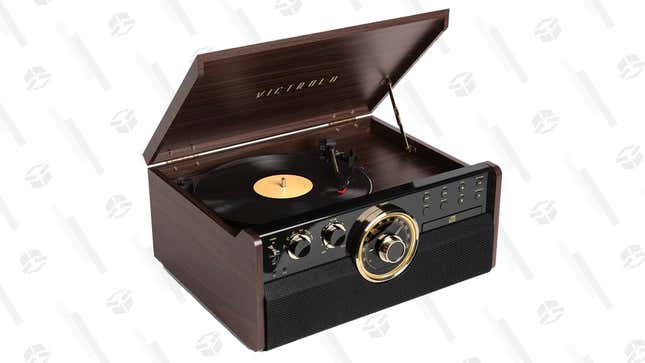 In a word, those with omnivorous music tastes are interesting. From prog to K-pop, underground hip hop to thrash metal—you probably have a bangin' record collection and make viciously good Spotify playlists. Maybe you have cassettes hanging around, or CDs from when you were a college radio DJ. Cool.
Victrola Empire Mid-Century 6-in-1 Turntable | $150 | 40% Off | Amazon
Anyway, this elegantly midcentury Victrola turntable is much more than a vinyl station. In fact, it's a one-stop-shop for any music format you so desire. Spin those playlists, flip that vinyl, smash play on those CDs or cumbersome cassettes. If you're a FLAC-head, there's an aux for you to play your idiosyncratic needs, you freak. With 40% off, playing your full your music library is so, so possible.