I'm as guilty as anyone of stockpiling unused tech accessories in my drawers, but a new charging accessory company called Nimble really made me stop and think about where all this stuff comes from, and where it goes when we're done with it. And yeah, they also make good products.

Founded earlier this year by former Mophie executives, Nimble builds phone chargers from recycled aluminum and plant-based plastics, and even ships them in boxes made from recycled scrap paper. Every product even comes with an e-waste bag and a downloadable shipping label to help you recycle your old, unused gadgetry. I have approximately 4,000 microUSB cables in my apartment, and probably need, like, two of them, so this is a nice touch.
Wait! Come back! I don't blame you for running away as soon as I said "Mophie," but Nimble's founders didn't bring their former employer's pricing matrix with them. As of the time of this writing, Nimble's batteries range from $30 (10,000mAh) to $100 (26,800mAh), and its Qi chargers start at $26 (though those prices may rise after the holidays). Those are fair prices given the features they include, and while they're not the cheapest products in the space, their prices are a lot closer to what you'd expect from the likes of Anker, Aukey, and RAVPower than what you'd see in the predatory checkout line of your local Best Buy.
Nimble sent me a battery pack and a Qi charging pad to try out, and I'm pretty impressed. They're both very well made: the battery's aluminum housing looks and feels great, and the fabric texture on the Qi pad reminded me of a smaller version of iOttie's pad. Aesthetically, the only misstep is is the "speckle" texture used throughout the products' recycled plastic and rubber accents. The company seems quite proud of the fact this makes every product look somewhat unique, but I thought it just looked dusty.
G/O Media may get a commission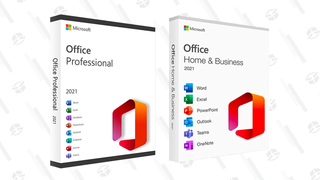 89% off
Microsoft Office Professional 2021 Lifetime License
Of course, the aesthetics and the manufacturing processes don't much matter if the products don't perform, and Nimble seems to have nailed most the features you'd want. The Qi chargers are all wrapped in that great-looking "organic hemp fabric," they all charge iPhones at the maximum 7.5W (and include the requisite Quick Charge 3.0 adapter to accomplish that speed), and they all include an extra USB port to charge a non-Qi gadget at the same time. That's a perfect three-for-three on my most-wanted Qi charging features.
The batteries don't quite check all of my boxes, but they come close, and even have some unique features of their own. For example, Every Nimble battery pack, even the smallest 10,000mAh model, includes a USB-C PD input/output port, which most manufacturers reserve for only their largest and most expensive battery packs. Sadly, it's limited to 18W, but that should still be plenty to keep small laptops, tablets, and your Nintendo Switch powered up on the go, even if we've seen faster speeds from other manufacturers. They also all feature a unique magnetic breakaway plate on one end with a (recycled) rubber loop to hold your cords in place. I'd be worried about the plate falling off and getting lost, but it's a clever way to make sure you always have a cord handy, while maintaining the option to remove the loop if you don't need it. Plus, magnets are always fun to fiddle with, lest anyone forget.
If we set aside Nimble's eco-credentials and judge their products in a vacuum, I'd say they're right up there with some of the biggest players in the space like Anker and RAVPower. Their lineup is still very limited at this point, and while they have some features you won't find elsewher, they also lack a few things like faster USB-C speeds that are only going to become more important. But if Nimble chargers check all the boxes that you personally need in your gear, and you don't mind the speckles, these are definitely products that you can feel good about buying.
---