In a camping and tailgating scene dominated by budget portable grills, Napoleon's TravelQ Pro 285X rolls up with premium design, engineering, and presence.
I've used this tiny mobile propane grill to produce everything from burgers, chicken thighs, and pork butt to some of the most perfect sous-vide meat sears imaginable. Napoleon's TravelQ PRO285X not only lets you grill food as well as larger gas grills I've owned, it performs consistently after travelling wherever you wheel it.
Minimal exertion and a few seconds is all it takes to convert the grill between roll/store mode and cooking mode. Cheaper portable grills from Cuisinart and Coleman can fold and roll most places, but they don't do it with the features, style, and stability of the TravelQ Pro.

The TravelQ Pro 285X natively accepts 1 lb. propane camp canisters and comes with an adapter hose and mounting straps for large propane cylinders. Napoleon's Jetfire ignition quickly gets things hot underneath the porcelainized cast-iron grill plates that are designed specifically to dissipate the direct heat coming from the burners. There's no need to shuffle your food around for an even cook like on the cheaper travel grills I've used.
G/O Media may get a commission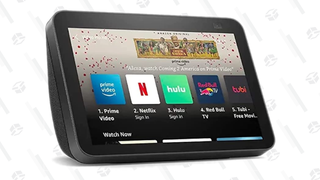 Napoleon sells an optional smoker tube in case you want to use your portable 12,000 BTUs to do something other than direct flame cooking. I used to think that competently smoking meat on a travel grill sounded far-fetched, but now I've been to the unknown and returned absolutely reeking of sweet hickory smoke.
The headspace under the lid of the 285X is ample - more than enough room for a pork butt or brisket on your flameout side. The precision control knobs and a built in "Accu-Probe" thermometer will let you dial in and keep a low temp as long as you like. Grab a good wireless probe thermometer and just treat it like any other smoker you've used. This functionality surprised me - it just works.
The TravelQ Pro 285X sports a thick cast aluminum body, heavy gauge legs, and a tight locking mech that solidifies the grill for safe cooking and a long lifespan. Napoleon has engineered a grill that deserves to accompany you everywhere you want to cook.