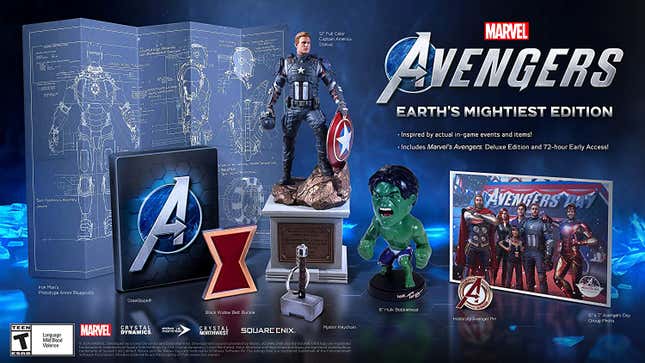 Marvel's Avengers: Earth's Mightiest Edition (Xbox One) | $133 | Amazon
With a $67 discount, Marvel's Avengers; Earth's Mightiest Edition for Xbox One might be a clutch gift for the biggest Captain America fan in your life. The centerpiece item in this box of physical extras is a 12" tall statue of the cap' himself, plus a 6" Hulk bobblehead, a Mjolnir keychain, a Black Widow belt buckle, and a pin that feeds right into your childhood fantasies of becoming an Avenger in your own right. There's also a steelbook case providing a lavish home for the game disk, a group photo, and a blueprint of Iron Man's armor—you know, just in case you have to pick up the mantle of sweet unadulterated justice down the line.
On PS4? The discount isn't nearly as good, but you can still add one to cart $10 cheaper than usual.
---
This deal was originally published by Quentyn Kennemer in October 2020 and was updated by Quentyn Kennemer on 11/04/2020.