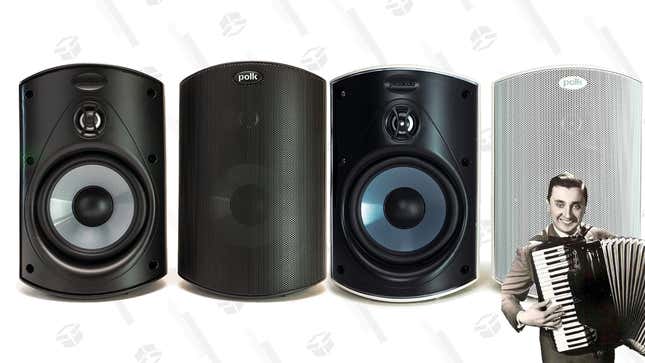 Polk Audio Atrium 4 Outdoor Speakers | $129 | Amazon
Polk Audio Atrium 5 Outdoor Speakers | $194 | Amazon
Polk Audio Atrium 6 Outdoor Speakers | $259 | Amazon
Take your patio game to the next level with these Polk outdoor speakers, currently up to 36% off at Amazon. Designed for wider sound dispersion and powerful bass in a noisy, outdoor setting, these speakers will make your outdoor gatherings the ones to beat. There are a few sizes to choose from, so whether you need the Atrium 4 4 1/2" speakers for $70 off at $129, the 5" Atrium 5 speaker with a minderal-filled dynamic balance driver and 3/4" tweeter for $105 off, or the large, $140-off Atrium 6 5 1/4" driver with 1" dome tweeter, this sale has you covered. The speakers are angled for sneaky corner mounting, and come with what Polk calls a speed-lock mounting bracket for easy, anti-slip one-handed installation. They're rated for all weather types, and can withstand both extreme temperatures and heavy rains. So next time you're having a grillout, think of how blown your friends' minds will be when you start blasting, say, a little Harry Czarnek and The Texas Dutchmen, maybe some Ray Budzilek and The Polka Town Boys? Or for those with more modern tastes, some award-winning tunes from Brave Combo never hurt nobody.