Yesterday we took a look at BioLite's CampStove 2, and today we're diving into their lighting ecosystem.
BioLite's NanoGrid components function independently, but they're better together.
It starts (or not) with the BaseLantern, an app-enabled, Bluetooth Low Energy, combination multifunction lantern and external battery pack with IPX4 water resistance. I accidentally left mine in torrential rain for hours without issue.
G/O Media may get a commission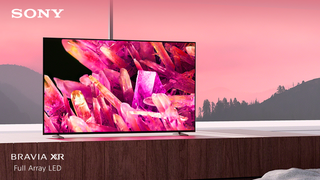 $400 off
Sony 55 Inch 4K Ultra HD TV X90K Series
The base model houses a 7800 mAh battery, and for $30 more you can upgrade to the XL with 12000 mAh, which you should do.
The value of the BaseLantern comes in its combined feature set, but let's get some perspective on that battery capacity first. The iPhone 7 Plus' battery is about 3,000 mAh, though you need more than that to top if off since charging isn't perfectly efficient. The base model of your favorite battery pack, Anker's PowerCore 10000, drops as low as $19, and at the other extreme, Anker's PowerHouse, which we'll be covering soon, gets as cheap as $330 with a massive 120,000 mAh of power. The CampStove 2's battery is 2600 mAh.
The BaseLantern's stainless steel legs allow it to stand up to a strong wind or hang from your tent or a tree branch, and they also fold flat. The BaseLantern does not require the app for basic functionality, but using it opens up features like full color and temperature control, lighting effects, power monitoring, alarms, and even proximity activation to help you find your way home.
The BaseLantern also acts as a hub for the rest of the NanoGrid system, specifically BioLite's range of SiteLights.

The BaseLantern weighs in at 1.29 pounds and can output 500 Lumens, so you can see that the SiteLights compare favorably in their weight-to-lumen ratio, and that building a collection can make for a very bright campsite. Plugging your SiteLights into your BaseLantern and controlling them via the app unlocks more features like dimming, though again, basic functionality is available through the physical buttons on the lantern. The SiteLight XL also packs flat.
Moving away from the BaseLantern and for half the price, half the lumens, 1/3rd the mAh, and 1/3rd the weight of the XL model, the BioLite PowerLite significantly lowers the barrier to entry for a hub that can control the SiteLight ecosystem, and its shape makes it a great torch as well.
Finally, there's the PowerLight Mini. I'll admit that I wince whenever I initially see the $45 price tag on this, but the reality is that getting 135 lumens and a 1,350 mAh battery into this barely-there form factor that includes a bike mount and multiple lighting modes was really a feat. It's bright as hell for its size and is forgotten until needed in any bag or pocket.
The NanoGrid isn't just for camping, and easily lent itself to lighting up my balcony and bedroom- situations typically reserved for string lights.
Like we concluded when discussing the CampStove 2 system, there are obviously cheaper, brighter, lighter, and more durable lanterns and torches, and lighter, cheaper, and larger capacity battery packs out there, but nothing that compares to the full potential feature set of BioLite's NanoGrid. Get lit.
---