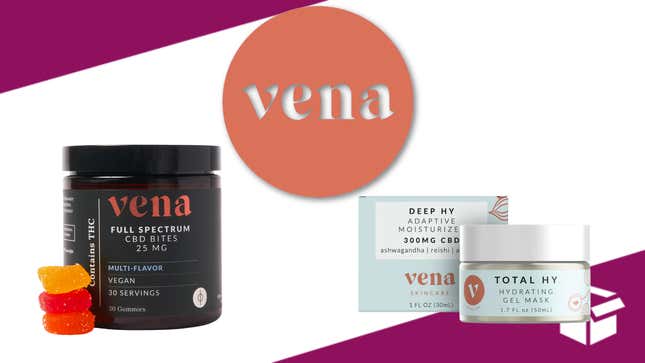 If you're looking for an easier path to a healthier, happier life, you might want to try CBD products. With so many on the market, it can be difficult to choose which brand is right for you. You may be interested in trying Vena CBD, a company that's on a mission to bring top-notch CBD solutions right to your doorstep.

Why the name Vena? It's inspired by the Vena Cava, the essential veins that circulate blood back to the heart—much like how Vena aims to improve your well-being from the inside out. How? With a wide variety of skincare, gummies, and much more.
Vena has something for everyone, making relief and wellness attainable for all. Keep reading to find out more about how Vena's unique CBD offerings can transform your lifestyle and how you can save 15% off on your first order. 
Vena CBD | CBD Sleep Gummies, Seltzers, and More 
Looking for a convenient way to dial up your well-being? Check out Vena's diverse range of CBD gummies. Take the No Worries Extra Strength Relief Gummies, for instance. They're designed to help you tackle life's curveballs as they come. Or maybe you're someone who wants a bit of everything? In that case, Vena's Multi-Flavor Full Spectrum Bites have got you covered, offering a tasty assortment that lets you enjoy a moment of peace anytime, anywhere.
Wondering what sets the Full Spectrum Bites apart? Think of them as the extra-strength aspirin of the CBD world. They're not necessarily better than CBD isolate, just more potent for those seeking a stronger effect. This extra strength comes from Vena's use of the whole hemp plant in the extraction process. Alongside CBD, you also get other goodies like terpenes, cannabinoids, and flavonoids, all of which contribute to the so-called "entourage effect"—meaning you're getting a wider range of health benefits in every bite.
Looking for a quick pick-me-up that's all about good vibes? Try Vena's Happy Place CBD Seltzers. These drinks are designed to give you that buzz you crave, without the next-day regret. Whether you're hanging out with friends or just unwinding after a long day, Happy Place sets the mood right.
Best part? It kicks in as quickly as alcohol but leaves you hangover-free. Plus, at only 40 calories and available in three mouth-watering natural flavors—Black Cherry, Grapefruit, and Guava Passionfruit—you can indulge without the guilt.
Looking to give your skin the love it deserves? Vena's CBD skincare line has got you covered. Check out the Miracle Manuka Multi-Use Cream—it's like a spa day in a jar. Made with New Zealand Manuka honey and CBD, this cream melts into your skin for instant relief and rejuvenation.
Or if you want a quick hydration boost, the Daily Hy Hydrating Serum packs a potent combo of CBD and natural botanicals to keep your skin moisturized and glowing. But that's not all. Vena's skincare range also includes moisturizers, gel masks, and soaking salts, each laced with CBD to make your skincare routine a great experience.
Launched in 2019 by Tamra Judge of Real Housewives of Orange County fame, Vena is all about boosting your well-being with straightforward yet powerful solutions. Mixing the best of nature and science, the brand aims to give you the reins to your own health and happiness.
From cutting-edge skincare to a variety of CBD options, Vena makes it easy to enhance both your mental and physical vitality. Whether you're interested in trying out some new gummies, creams, or face masks, there's a CBD product to make life easier for you.