The most important thing to know about floor care and cleaning is that the products, tools, and techniques to use are dictated by the type of flooring in need of care and cleaning. Which is frustrating, because it means that there's no one single thing to recommend for universal floor care. But there are some products that are Just Very Good For Floors and these are they.
The Dyson cordless stick vacuum is one of those products that inspires a deep passion in the people who own it. That can be confusing and also kind of annoying to people who can't understand such passion for a vacuum but trust me on this one: This vacuum is life-changing. The combination of the wall-mounted holder, that makes it easy to quickly grab the vacuum, to its very lightweight, to its cordlessness, this baby will allow you to zip around the house, cleaning the floors without it feeling like the chore that heavier, bulkier, corded vacuuming can be.
G/O Media may get a commission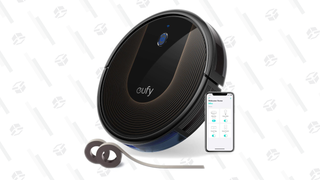 48% Off
Eufy BoostIQ RoboVac
Rush brooms — the thing you think of when you think of brooms — are good at a lot of things but not very good at one particular thing: Hair pick-up. Enter, the rubber broom! Rubber, as I am fond of telling people, is the natural enemy of hair, and rubber brooms are fantastic at quickly picking pet hair (and human hair, for that matter) up off of floors … including carpeting! Also, rubber brooms are very easy to clean by simply rinsing the bristles under running water and allowing the broom to air dry.
There are two things to especially love about the Braava Jet robot mop: It's super small, so it can be stored in even the tiniest bathrooms without taking up precious space. And, its price point won't break the bank. The Braava can also perform three different types of cleaning; heavy-duty mopping, regular mopping and dry mopping.
I talk about these microfiber cloths and for good reason — they're a truly great buy! When it comes to flooring, microfiber is great because it's safe to use on everything from hardwood and laminate to tile and natural stone. You can use these dry to quickly wipe up spills as they happen, or wet them and apply a little elbow grease to spot clean dried-on spills.
The Drill Brush is a favorite around here because we believe fervently that it's fun to use power tools for cleaning! While the brush is probably too much for hardwood and definitely too much for laminate flooring (laminate doesn't love anything abrasive), it's definitely a good tool to keep in mind for deep cleaning tile, natural stone and … yup, carpeting! Just bear in mind there are six different Drill Brushes and make sure to pick the right one for the job at hand.

---