I've re-bought this Jurlique facial spray twice, which is almost like a backwards humble brag, because wow, I feel like an idiot admitting that.

Facial sprays are a mystery to me, really. Glossier just launched one. The Evian one is all over YouTube. In reality, you can really just put filtered water and essential oils in a spray bottle and call it a day for a lot less than buying a branded facial mist, but where's the mystique and glamour in that?
But this smells like a greenhouse full of flowers after it's been watered, deeply rose-scented but not artificial. The bottle is heavy, milk glass-like. It's unassuming on my beauty shelf, but it feels good to hold and to spray in a large sweeping motion across my face like some Old Hollywood actress and her tassel-laden atomizer.
Does it do anything more than moisten my skin and make my face smell like a garden? Fuck if I know. It promises to hydrate the skin and soothe any irritation, which it does deliver on (though, subtly). It also has a permanent space in my makeup bag on every single trip that involves any sort of outdoor aspect. But it also feels good, both in form and function. It satisfies a part of me that's deeply buried behind green tea hydrating serums and $17 SK-II face masks and Dr. Jart+ Camo Drops.
So many people take skin care way too seriously, and in the climate that we're in now, that's just one more thing to unnecessarily worry about. Buy the stupidly expensive beauty product that may not fix any "issues" but makes you feel good for owning it and using it. Skin care, in my opinion, doesn't need to do anything drastic to make you feel good. Half the battle of skin care is getting past the idea of "results" being clear skin and less wrinkles.
If putting on a face mask that looks ridiculous makes you feel good, wear that damn mask till the cows come home. If, like me, spritzing glorified spa water across your face makes you feel better about the world, then buy the bottle and spray away.
G/O Media may get a commission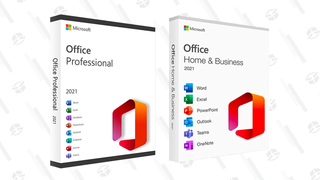 89% off
Microsoft Office Professional 2021 Lifetime License
---