Washing your face just once is not enough. For years, I've been washing my face twice, back-to-back. One round of cleansing just never felt like it could sufficiently remove my makeup and clean my pores. Turns out, a two-step cleansing routine—specifically, an oil-based cleanser followed by water-based cleanser—is a K-beauty hallmark. Eventually, I too discovered the makeup-dissolving magic of oil cleansers, and needed zero convincing when it came to adding one to my skincare routine in addition to a foaming cleanser, instead of just doing two rounds of foaming cleanser one right after the other.
I've never been super picky about cleansers, probably because they're on your face for all of one second. And I pretty much never really buy the same cleanser twice; I've tried everything from drugstore standbys and luxe options to cult favorites. All of them have been perfectly fine. None of them have really wowed me. That is, until I got my hands (face?) on Then I Met You's Cleansing Duo. Then I Met You was created by K-beauty site Soko Glam founder Charlotte Cho, and currently, their only offerings are the two products that make up their Cleansing Duo. But I pray that they come out with more soon, if the duo is any indication of what future releases could be like.
The Cleansing Duo is basically a built-in, two-step cleansing system: Step One is the Living Cleansing Balm, step two is the Soothing Tea Cleansing Gel. I'll start with the balm.
The Cleansing Balm comes in a very pretty periwinkle-to-orange ombre tub, and has a sorbet-like consistency that breaks down into an oil as you massage it into your dry skin, then emulsifies when you add water. Then I Met You includes a cute little spatula for scooping out the product, which happens to be bright orange because of the seaberry oil included in its ingredient list. That, plus lightweight grape seed, olive oil, and vitamin E, make it super effective at removing oil-based impurities, like sebum, sunscreen, and makeup, from your face. The instructions specifically recommended taking a minute to give yourself a face massage with the balm—don't have to tell me twice.
But what you really need to know about the balm is that it smells so. freaking. good. The intoxicatingly tropical scent comes courtesy of persimmon extract, an effective skin brightener, along with hints of grapefruit and rosemary. It is the best smelling beauty product I've ever sniffed, bar none, and I have smelled a lot of beauty products. Bury me in a human-sized tub of the Living Cleansing Balm.

Next up is the Soothing Tea Gel Cleanser. Once you've sufficiently scrubbed your face with Cleansing Balm and rinsed it off, it's time to rid your skin of water-based impurities, like sweat, dirt, and city grime. Fermented rice water brightens up your skin, while PHAs and tea tree fight breakouts and clear out your pores. This stuff smells very nice as well, and feels like a jelly before you start lathering it up with a bit of water. Best of all, your face feels hydrated and soft once you wash it off—not tight or super dry.
G/O Media may get a commission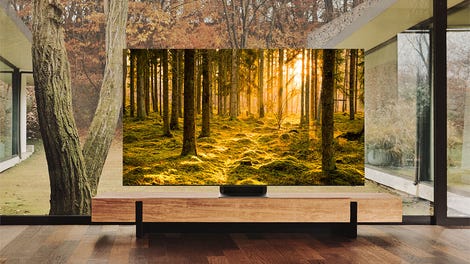 Up to 40% off
Samsung Smart TVs
All in all, these two cleansers—both individually and as a couple—are the first cleansers I've ever felt passionately about. Not only do I actually relish washing my face since they've come into my life, but I also love seeing them waiting for me on my bathroom counter; the packaging is very aesthetically pleasing! Yes, they are sold separately, but if you decide to come over to the double cleanse dark side, please, for the love of God, just buy both. They are a team, a dynamic duo, two peas in a pod. They belong together, and anyway, two is always better than one.
---