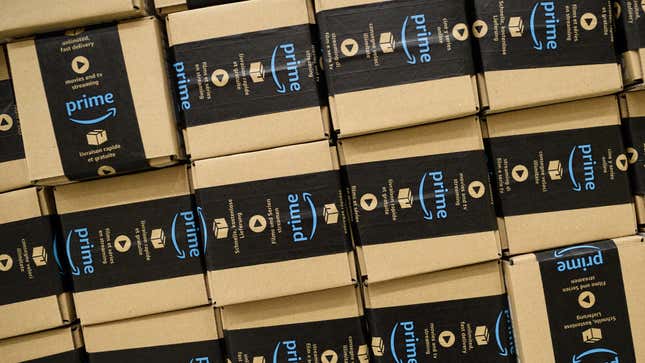 We're still waiting to hear when Prime Day 2019 will take place, but in the meantime, we've got a few tips to help you prepare for one of the biggest discount events of the year.
Whenever Prime Day ultimately starts, you can be sure that we'll be covering it exhaustively on Kinja Deals, so be sure to follow us on Twitter, like us on Facebook, find us on Instagram, and be sure to bookmark our Prime Day 2019 Hub!
This one should be fairly obvious, but to take advantage of Prime Day deals, you'll need to be an Amazon Prime member. You can start a 30 day trial right here. Just note that after your trial period ends, you'll be charged for a full year's membership unless you cancel beforehand.
In addition to free two day shipping, a deep catalog of streaming video, and access to exclusive deals, there are a ton of Prime benefits you might not know about, so you should probably sign up anyway.
After the disaster that was the inaugural Prime Day, Amazon seems to have gotten better control of its inventory, and we haven't seen too many deals sell out nearly instantly in recent years. That said, most of the best deals on Prime Day won't last very long, and every second counts, so make sure your 1-Click settings are up to date. This is doubly important because of Amazon's focus on...
While these seem to have been deemphasized over the past year, we fully expect that some Prime Day deals will be exclusive to Alexa, meaning you'll have to order with your voice, a process that requires your aforementioned 1-Click settings to be set up properly. If you don't have an Amazon Echo, Fire Tablet, or Fire TV available, you can always use the Echo button in your Amazon app.
Come Early, Come Often
Last year, Amazon offered a lot of its best Prime Day deals during a two-week lead-up period, before running them again on the day itself. Many of these early access deals lasted longer in early access than they did on Prime Day, so you should definitely keep an eye on Kinja Deals in the weeks leading up to the big day to score some of the best deals early.


Other Retailers
Other major retailers like Walmart, Jet, Target, and Best Buy will likely get in on the action by matching or even beating Amazon's prices on certain high profile deals. Again, availability for a lot of these promotions could be spotty, so it's worth making sure you remember your account passwords for these sites, and updating your payment and shipping information.
Prime Day is overwhelming, and hopefully you have better things to do on a Tuesday than sort through thousands of deals to find a few that are actually worth it. But Kinja Deals' entire team will be sorting through the deluge all day long (and every other day of the year, for that matter), so be sure to follow us on Twitter, like us on Facebook, find us on Instagram, and be sure to bookmark our Prime Day 2019 Hub!
---