The newest drop from Glossier, an exfoliating skin perfecter called Solution, comes out of the gate with bold promises of clearer skin, and the before-and-after photos to back it up. But what does it actually do?

The skin needs a little help sometimes to get rid of all the gunk that gets on it during the day. You can physically exfoliate it, like with a Foreo or a scrub. Or, you go chemical with an alpha-hydroxy acid (AHA) or beta-hydroxy acid (BHA) to basically act like a janitor for your dead skin cells.
AHAs and BHAs do different things, so you can choose which to use depending on your skin concerns. They also do wonderful things when used together (like cutting out a step in your routine), which is where Solution comes in. It combines two AHAs, lactic and glycolic acid, and salicylic acid, which is the BHA we all know and love from days of using Clearasil or Stridex pads in middle school.
Now, onto the nitty, gritty of Solution.
Everything about Solution screams Glossier, except for the actual product itself. Their previous foray into elevated skincare, The Supers, are nice. They were one of the first "mainstream" serums that immediately accrued a cult-following. But they were, at their core, made for people who already had good skin and wanted to maintain it, i.e. the core demographic of Glossier marketing.
G/O Media may get a commission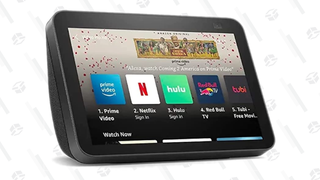 Solution is different. While the campaign surrounding it was Glossier-flavored, it had Proactiv-like before-and-afters and infomercial-influenced copy. It felt like a skincare product made for anyone that wanted to take a step and address deep-seeded skin issues, like acne and hyper-pigmentation. That's a far, far cry from their normal M.O. of people who already had the good skin their barely-there makeup worked well with.

The delivery of the product is a highlight, and scarce in the skin care world: a pump that saturates a (branded) cotton pad as you press down, instead of squirting out. Presumably, there's less risk of product loss when dispensed that way. It has a slight minty smell to me, but overall has the acrid notes you associate with facial acids. So far, it hasn't dried out my skin and only slightly tingles as I use it, as opposed to the "Holy shit, my skin itches" of my other favorite AHA/BHA product, The Ordinary's AHA + BHA Peeling Solution. But please, please, moisturize and wear sunscreen if you decide to try it out.
I've been using it daily for a little over two weeks, and I can honestly say that my skin has been the best I've seen it in probably close to 8 months. That could be in part because I have finally found a skincare routine that works for me, but I feel like Solution may have been the missing piece. I got my first facial last week and when I told the esthetician about Solution's AHA/BHA/PHA makeup, she was impressed and pleased, so I counted that as a win in my book.

It's not a holy grail product in my opinion, but a foundational one, one that I will continue to use in my routine as other products rotate in and out. Solution is like that pair of jeans that fits you perfectly, goes with everything, and doesn't wear out, but for your face.
---