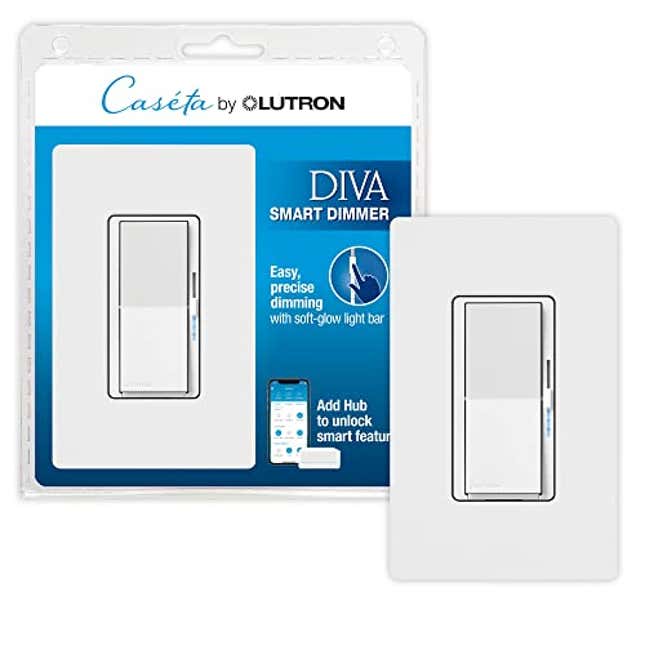 The Lutron Diva Smart Dimmer Switch with Wallplate for Caséta Smart Lighting is a game-changing product currently available at a discounted rate on Amazon. As part of Lutron's #1 dimmer series, this smart switch not only offers efficient light control but also boosts the convenience and aesthetics at your place.
One of the key superiorities of this Lutron Diva Smart Dimmer is the absence of a neutral wire requirement. This feature makes the dimmer switch compatible with homes of any age, providing a seamless installation process. Besides, the package encompasses (1) Diva smart dimmer switch for Caséta smart lighting and (1) coordinating Claro wallplate, driving home an excellent return on investment.
The integrated soft-glow light bar and slider allow easy and precise light control, while the preset option lets you turn on the lights at your preferred predetermined level. This elevates the overall user experience, making it a valuable addition to your home.
Moreover, Caséta, the brand behind the smart lighting integration, is known for its universal compatibility with leading smart home devices. These include Alexa, Apple Home, Google Assistant, Ring, and Sonos, to name a few (smart hub required, sold separately). Hence, with this smart dimmer switch from Lutron, you are purchasing a product that enhances connectivity, offering you advanced control over your home's lighting solutions.
The Caséta Smart Dimmer Switch also supports the 'smart away' feature, wherein it randomly turns your lights on/off, implying someone's home even when you're away. This lends an additional layer of home security, granting you peace of mind when you're not at home.
Technical details reveal that it works with 600W incandescent bulbs/150W LED and can be installed in just 15 minutes or less. Depicting its practical approach to lighting solutions, it's compatible with Pico remote/wall mount bracket and Claro smart accessory switch, providing the flexibility to add a 2nd switch almost anywhere.
In summary, the Lutron Diva Smart Dimmer Switch from Amazon is an intelligent, versatile, and hassle-free lighting solution for modern homes. It is easy to install, offers remarkable connectivity, and comes at a reasonable price, especially with the ongoing 13% discount. Make a smart choice for your home's lighting by purchasing the Lutron Diva Smart Dimmer Switch with Wallplate for Caséta Smart Lighting. Invest in convenience, efficiency, and improved aesthetics today!