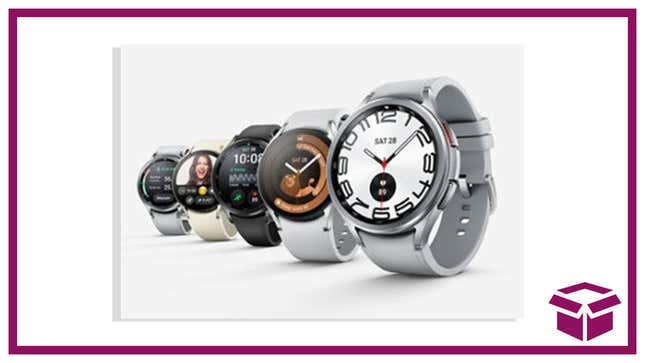 Samsung's newest smartwatch is generating a lot of buzz, and if you plan to order one, we suggest you do it at Best Buy. With this deal, you can make the purchase on their site and get two free gifts — a $50 Best Buy e-gift card and a select fabric band for your new watch. (Shoppers can also save up to $250 with a qualifying trade-in as part of the same deal.) Not bad perks when you consider the Galaxy Watch6 has some of Samsung's best specs yet.
Samsung Galaxy Watch6 | $50 Best Buy e-gift card and select fabric band with purchase | Best Buy
We love the Galaxy6's large screen, its versatile designs, and its excellent battery life (charges in 30 minutes, lasts up to 40 hours). Plus, it has a faster processor, delivers advanced wellness insights, and is water-resistant for all your fitness activities. Check out the options now at Best Buy and get a $50 e-gift card, plus a free fabric band, when you order the Galaxy Watch6 now.