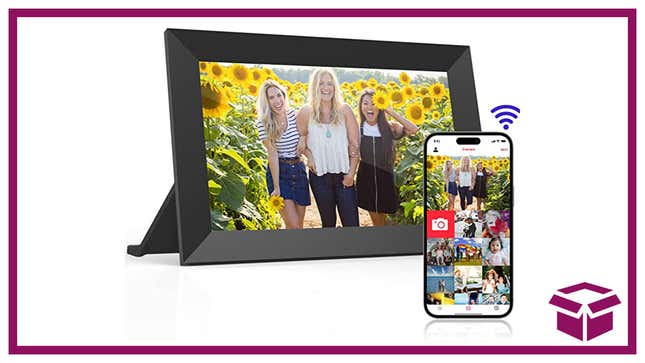 We take selfies with everyone we meet up with and 98% of our cloud storage is devoted to photos, and yet we only seem to view them when they pop up as memories on our phones ("Wait, I went to New Orleans?"). But thanks to nothing short of a humongous sale on SGIN's WiFi Digital Photo Frame, you can store and display literally thousands of photos and videos of your dog (up to 40,000 photos, in fact, with the included 16GB of storage!).
SGIN WiFI Digital Photo Frame | Clip Coupon for an Extra 10% Off | Amazon
Simply connect your frame to WiFi and use the included app to seamlessly share photos from phone to frame. You can even invite unlimited users to contribute media ("Mom, enough with the baby pics!"). This 10.1 high resolution touchscreen screen comes in a classy wooden frame that blends in seamlessly with your decor while also providing handy functions like a calendar, time display and more. We've never seen a deal even close to this one for this versatile digital frame, so snap it up while you can!