Whether you're playing an Xbox Series X, Xbox Series S, or Xbox One, you might be looking for a fresh game to keep you occupied through the winter. Or maybe you're looking for one of those consoles in the first place! Luckily, there are many recent releases on deep discounts right now. Have a look and game on!

Samsung TVs | Free 3 Months of Game Pass + Xbox Controller
Maybe not the type of deal you were expecting on this list, but worth bringing up. Samsung has launched a partnership with Microsoft in that any 2021 or 2022 model TV can now download an Xbox app to play Xbox games via the cloud right on the TV—no console required. As an incentive, select models are now bundled with three free months of Game Pass and an Xbox controller to get your playing right out of the box.
G/O Media may get a commission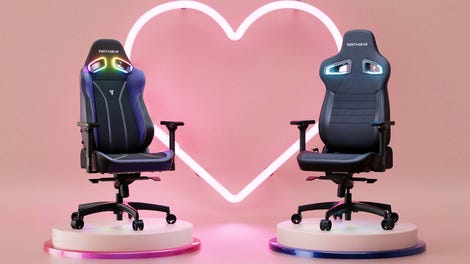 Up to $150 off
Vertagear Gaming Chairs
The latest game centered on our favorite Marvel heroes combines X-COM-styled combat with a relationship sim. Send heroes like Wolverine, Spider-Man, Blade, and Ghost Rider into tactical turn-based fights and then return to base to strike up conversations with each of them. The enhanced edition comes with five premium skins and is $20 off right now.
This new action-roguelike is making its way to Xbox in the next week. You get to simultaneously control a sword-wielding robot and a frog with a gun. They are best friends who you get to play alongside your real-life best friends in co-op with up to four players. The game releases on January 25, but if you preorder you'll be able to save a few dollars.
Do you currently enjoy many close and cherished relationships with friends and family? Would you like to absolutely ruin all of those in the blink of an eye? Well, do I have a deal for you! This absolutely chaotic multiplayer game has you and your friends frantically running a kitchen trying to coordinate in making stuff like hamburgers. Normally going for $17, Xbox has it for a measly $2. That's two bucks for some of the best local multiplayer you'll come across.
The LEGO Star Wars: The Skywalker Saga covers the three main trilogies we have now and does so with all the jokes and charm we've come to expect in the LEGO games. This is not to be confused with LEGO Star Wars: The Complete Saga—an incomplete story of the Star Wars movies. I know, it's confusing—but it's not LEGO's fault the other game came out before Disney bought the IP.
Square Enix's new adaption of Guardians of the Galaxy follows their middling take on Marvel's Avengers. While the latter brought on some mixed feelings about a decent single-player experience with a poor attempt at a live-service game, Guardians of the Galaxy drops any and all live-service elements in favor of a single-player story taking on the role of solely Star-Lord. And it's actually pretty dang good!
Hey folks, so golf games are fun. As someone who's never really been grabbed by any of the classic sports titles like Madden or NBA 2K, I do find myself coming around every couple of years to tea off with my friends Tiger Woods, Brooke Henderson, and more. In PGA Tour 2K23, you can become the next FedExCup Champion by competing against the pros. You can also play Top Golf in the game which is already, "What if golf were more like a video game?" so now this video game is like, "What if a golf video game were more like if golf were more like a video game?" Riveting stuff.
Well there, pardner. It's the end of the line for you. Here's what you and me's is gonna do. We go to the town square and stand back to back. Then we each take 10 paces. At the end of your paces, you'll find a laptop and you can use it to purchase Red Dead Redemption 2 for $30 and it's even the Ultimate Edition. I reckon it's the most rootinest tootenst cowboy vidya game on this side of the Mississippi.

Sonic makes the leap into open-world (or technically open-zone) gameplay in his latest game. It's only been out for a couple of weeks but it's already down to $40.
From the creators of Dishonored and Prey, the latest immersive sim from Arkane is out on Xbox now, and folks, it kicks ass ... In Deathloop, you play as Colt—a man stuck on an island where everyone including himself is in a time loop. The only way to break it is to kill eight specific people within the same day.
Resident Evil Village is the eighth core entry in the series and follows in the footsteps of the stellar Resident Evil 7: Biohazard. It's another first-person horror affair, this time in the sizable titular setting - although the castle with meme icon Lady Dimitrescu really steals the show. If you haven't already checked into this survival affair, it's on $20 digitally.

This thrilling first-person shooter mixes linear gameplay with open-world elements. These mini open-world segments stand out as some of the best parts of the game and scavenging this post-apocalyptic wasteland now looks even better with Ray Tracing at 60 FPS.