I've already shared with you my top car seats for every stage of your child's life, so it's only logical that I move onto the second biggest price tag in baby gear: strollers.
I've separated them in different categories because, in my experience, there is no one stroller that is good for every single occasion. The one that's perfect for city sidewalks isn't so great for travel. The one designed for travel isn't sturdy enough for running. Some are ideal for newborns, while others are better for toddlers.
I'm still pining for the mythical One True Stroller, but in the meantime, here are my favorites for different situations.


G/O Media may get a commission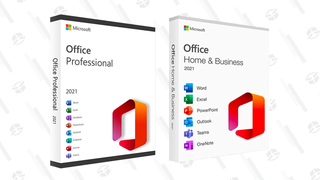 89% off
Microsoft Office Professional 2021 Lifetime License
When I was pregnant, I did a ton of research on city strollers, and my decision came down to two brands. One Sunday afternoon, we decided to go test both finalists to make a decision, and the Uppababy Vista was by far the better of the two.

We LOVE this stroller. The Vista boasts a wide frame which makes it great for all terrain. We haven't had any issues pushing it through snow, slush or sand, and our little dude is super comfortable without bouncing around like a ping pong ball in it. The difference between the Vista other options from Uppababy is that it comes with a bassinet made to be use from day one. We even bought a stand and used it as our second bassinet at home for our son to nap in. The brand also makes a car seat that is compatible with the stroller, which means less pieces lying around your house.
My main gripe about this stroller is that traveling with it is not easy. If you want to store it in their travel bag, the wheels need to come off (ugh!), and folding it with one hand while holding kid in the other is virtually impossible. However, it is so comfortable that our son often naps in it while we are out and about without any issues, which makes living life on a toddler's schedule so much more manageable.
I don't get tired of talking about this travel stroller, because it still blows my mind. My most recent trip involved me flying solo with my kid, our bags and a stroller. I folded the Pockit+ into its travel bag and carried it onto the plane without any issues, which meant I had it ready to go (and not banged up from being tossed around with the baggage) the second we got off the plane. Every time we travel abroad, flight attendants express surprise at how small it folds; so small in fact that it's fit in every overhead compartment we've encountered so far.

The downside to this stroller is that because it's so light and foldable, it's not the sturdiest. It falls short in the streets of New York City, and after a couple of hours of bouncing around in it, our kid needs a break. However, we took it to our most recent Disney World trip, and with a couple of extra gadgets, he was able to nap in it despite the seat not being super reclinable.
The key to any good jogging stroller is that they need to have three wheels for better stability, and have really good suspension on those wheels to avoid too much bouncing. The Thule Urban Glide is an awesome running stroller for any terrain as it also comes with a hand break that provides extra control when going down hills. It also comes in a two child seat option.

The only complaint about this stroller is that it feels very long and wide, which I get is part of what it makes it a great running stroller, but the downside is that it doesn't make for a great city stroller if you are planning to walk it into restaurants or stores.
If you have space for this trailer in your home and you're done with having babies, this is perfect for you. It goes from stroller, to running stroller, to bike cart in no time. Sure, it's not as stylish as the strollers I shared above, but it's super convenient to safely push around older kids. To attach it to a bike, you'll need to remove the front wheel, but that means it won't tip over even if the bike does.

All four sides come with reflective material for extra safety, and the trailer will shelter your kids from the sun and the rain.
---