Todd Snyder, the brand, has become my team's go-to shorthand for the type of men's clothes that fall a little outside our audience's spending comfort zone, but we recommend them anyway because they're totally worth the fleeting pain at checkout. And it's not just because Todd Snyder, the person, is an extremely kind, smart, and funny guy, who doesn't mind when I text him my opinions of the models the company uses on the website (Example: This guy terrifies me...but this guy!? Hubba hubba).

And it's not just our team. For many men, the brand constitutes the next level up in one's wardrobe evolution. If you can afford a J.Crew pocket tee, you can afford one from Todd Snyder. Think: elevated basics that you can't quite figure out why they cost so much, only to realize after you pull the trigger that you wear those pieces 100x more than the rest of the stuff in your closet.
Snyder founded his eponymous label in 2011. He originally moved to New York from Iowa (our friendship is built mainly on our shared midwestern origins), first to design outerwear for Polo Ralph Lauren before becoming the director of menswear for Gap. Then, he tackled the men's side of the store at J. Crew, where he introduced formalwear and is responsible for cool guy collabs with heritage brands like Timex, Red Wing, Alden—a tradition he's continued on at TS.
The brand makes clothes for a guy living in New York (or just wants to look like he does) who aspires to dress well but not "fashion-y." Which is to say, a lot of fucking guys.
In 2015, American Eagle Outfitters bought Todd Snyder and the company's college sports apparel line Tailgate, bringing it under the AE parent company. But that just means the team has more time to churn out wardrobe heavy hitters like the perfect crewneck sweatshirt and slim-fit suits without worrying about how to pay the rent on their sweet NYC flagship in Madison Square Park.
Below, the best picks from Todd Snyder for fall:
G/O Media may get a commission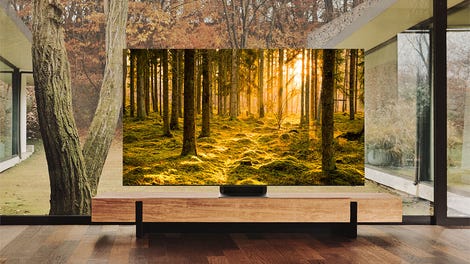 Up to 40% off
Samsung Smart TVs
If you get any one thing from Todd Snyder, let it be a grey crewneck sweatshirt. The brand offers several styles varying ever-so-slightly, so you can decide if you want a terry or fleece lining, chest pocket or not, and on and on. The point is, just make sure you get one.

This is the kind of item that reminds how you defaulting to the "Amazon's Choice" of products can rob you of what happens when a thoughtful designer and well-constructed material get together. It's items like this that make guys who have previously been unwilling to spend more money on their clothes (that "It's just a grey sweatshirt" thinking) spend more money.
All of their pants are great, from corduroy 5-pocket pants to dress trousers, but the SG team is particularly obsessed with these new tab front chinos.

They fit like your favorite jeans, but feel structured and tailored enough for the office. Which is really what all chinos aspire to be—casually polished for outfits that are dressed up or down. Even better, the price point on these bad boys rings up at just a little over $100, making them a good gateway drug into the brand.
Every guy needs a grey or navy suit (yes, needs, and I don't use that term lightly) in his wardrobe repertoire. When you're ready to have one hanging in your closet that you feel really, truly great wearing, check out the Sutton suit from TS. Snyder's responsible for your J.Crew Ludlow suit, and the Sutton is his (updated, elevated) version of that modern tailored fit.

Look, I understand the ridiculousness of suggesting you buy a cashmere T-shirt sweater (do those words even go together?) that's nearly $300. But I'm not telling you to buy just any cashmere T-shirt sweater. I'm telling you to buy THIS cashmere T-shirt sweater, that will make you feel like you're next in line to take over Waystar Royco once Kendall inevitably fucks things up next season. It's understated luxe that will make you feel like a million bucks (or more).

This rec is NYC sports fan-specific, but the brand's collab with New Era is what grown-up baseball caps should be. You get to rep your team without looking like you're late to lax practice after econ 202 ran long.

A T-shirt to make you forget all your other T-shirts. This one's made of premium imported cotton, and is lightweight enough for layering once the temperatures really start dropping. It also keeps its structure better than most tees after repeated washings. I promise you'll want to wear it with basically everything you own.

Welcome to your have-it-forever topcoat. This one's crafted from a premium camel-wool blend that feels as good on as it looks in this picture. Perfect over a suited-up look, but honestly? It's possible that this thing looks even better on the weekends thrown over jeans and a rumpled button-up as you run to get bagels and the paper. Kendall Roy better watch his back.

---