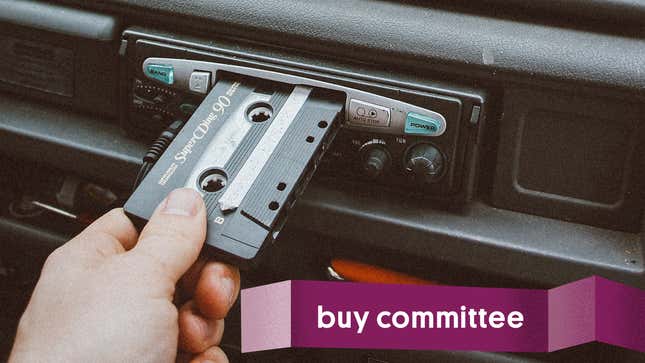 As we approach summer travel season, it's a good idea to check how well your car's audio system is equipped to play Father of the Bride. Reader Stanton Collins wants to pick up a Bluetooth FM transmitter but his research isn't yielding any positive results.
Dear Buy Committee,

What I keep putting in my cart and not buying is those devices that broadcast your phone's audio to your car's radio. I read the user reviews on Amazon and then start thinking they're all junk. Can you help me?
So, Buy Committee (that's you), scroll down to the comments to share your experiences with your FM radio tuners. Help Stanton decide which FM radio tuner he should invest in, or suggest another way to play music on his car's stereo.
As a perpetual shotgun seat rider, I have seen a great many versions of these bluetooth radio tuners. And as your research has shown, there's more than a few lemons.
Most of the options I've seen rely on older tech to save on costs. You need to look out for something that uses at least a Bluetooth 4.2 connection (like this Roav SmartCharge T1 from Anker) to ensure more reliable over-the-air data transmission from your phone. The most important thing with any of these transmitters though is to find a clear, unoccupied FM station to transmit, and to not be afraid to change it on the fly if you're driving across large swaths of the country.
---
Of course, we're looking to help you decide on more purchases. So, if you're still agonizing over something, email deals@gizmodomedia.com with the subject line "Buy Committee" or tweet us at @ItsTheInventory.

---