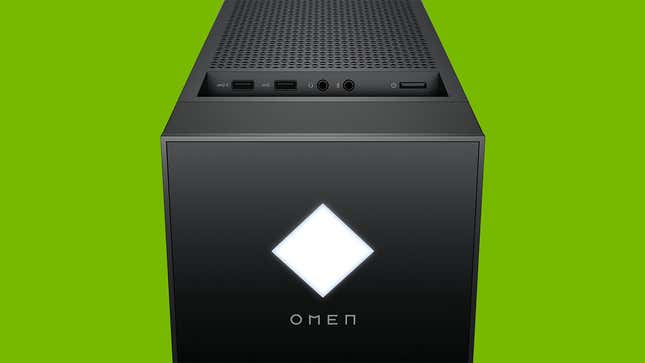 HP Omen 25L (Ryzen 5, 8GB RAM, 256GB SSD) | $1,150 | HP | Promo Code 5GAMER2021

When new product stock is so barren that a company has to dig through its archives to go back and play the hits, you know things are dire. But when that same product can be purchased as part of another product for the same price as the first product on its own, it starts to raise some serious questions. Concerns around Nvidia's ongoing GPU scarcity freakout is, at least to some extent, legitimate. Building chip hardware on new process tech is expensive, and cryptocoin mining has breathed new life into the company's consumer market, driving up the cost of the latest RTX 3070 to anywhere between $1,000 and $1,400 on eBay.

That said, for the chronically impatient, you could always buy a pre-build. After years spent toiling away on upgrades and RMAs, all while working 10- to 12-hour days, I had to cut out either work or PC building to afford the time to actually play games. So I chose the one that didn't pay my bills. While my own pre-built PC is getting a bit long in the tooth now, the HP Omen 25L comes in a variety of serviceable configurations, one of which is on sale for $160 off the sticker price.
Using the promo code 5GAMER2021 at checkout, you can get an AMD Ryzen 5 processor with 8GB of RAM and a 256GB SSD for just under $1,200 by the promo code 10PDS2021 at checkout. An Intel version with a higher thread count would have qualified for the same coupon but is currently out of stock as of this writing. While you might regret not opting for more RAM and storage in the future, you can either replace it yourself when shit hits the fan or shell out an extra $120 or so for double the memory and space. And of course, this Omen 25L configuration rocks Nvidia's GeForce RTX 3070 GPU for less than the aforementioned card-only price ceiling you'll find from resellers online.
If you were planning to build from scratch anyway, here's an alternative that will save you money while sparing you some extra work as well.
All you have to do is configure the desktop on this page with the $480 RTX 3070 add-on (leave everything else as-is) before entering the aforementioned offer code to take advantage of the discount.
This story was originally published by Gabe Carey on 02/17/2021 and updated with new information on 03/22/2021.
---