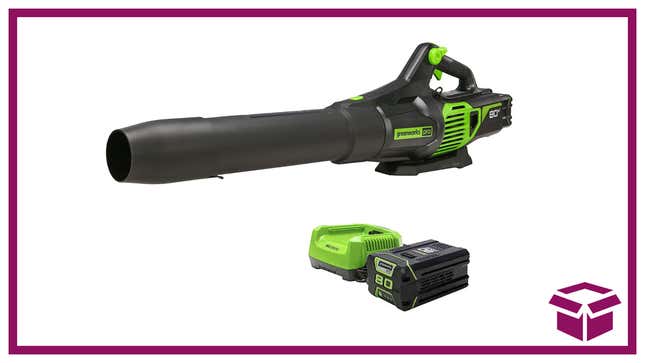 April showers bring May flowers, but they can also be a hassle for keeping your lawn looking neat. Luckily, I found an awesome solution! The Greenworks Pro 80V Cordless Leaf Blower is a fantastic tool for tidying your yard without disturbing your neighbors or harming the environment. And guess what? You can grab it for 20% off at Best Buy, making it only $199! If you're thinking about getting this blower, Amazon also has a great deal with an 18% discount, making it only $221. So whether you're doing some Spring cleaning or want to keep your yard looking great, this leaf blower is definitely worth taking for a spin.

Greenworks 80-Volt Cordless Blower | $200 | Best Buy
Greenworks 80-Volt Cordless Blower | $220 | Amazon
This leaf blower is super efficient, with up to 170 MPH of airflow for easily blasting through any yard's wet leaves, thanks to its quiet brushless motor. You won't have to mess with extension cords or struggle to start a gas-powered blower. Plus, if you have allergies like me, it'll help you finish up quickly and get back inside. On top of all that, it's eco-friendly and doesn't pollute the air like gas-powered blowers.