Rice is undoubtedly one of the best foods in existence. It can go with just about anything, is tasty, healthy, and easy to make. However, if you're cooking it on the hob, you're probably doing it wrong. Rice cookers are basically magic, but some take up a fair bit of space. Thankfully, the internet has a wide range of the best mini rice cookers for all of us to choose from, and you're in luck, because we've gone ahead and looked through them to choose the best of the best.
Small on space? Small on budget? Small on number of people in your house? The Black + Decker 3-Cup Electric Rice Cooker is the one for you. How do I know this? Because it weighs 2 pounds and cooks three cups of gloriously fluffy rice in 20 minutes. What more do you need? It's very no-muss and no-fuss, in a way that should appeal to busy folks on a budget. It's also simple enough to trust someone else in the kitchen to use, so they get to feel like they helped out with the meal. Even if Black & Decker is really the one doing the heavy lifting.
G/O Media may get a commission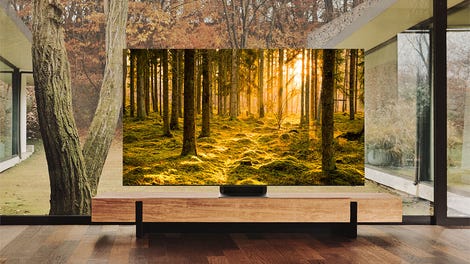 Up to 40% off
Samsung Smart TVs
I'm thrilled that Sanrio partnered with Zojirushi for its Hello Kitty Rice Cooker, because instead of making an Easy-Bake Oven for adults, the two brands have created a multifunctional, long-lasting machine that also happens to be adorable. Designed to be as simple and utilitarian as possible while somehow being too cute for words, the Hello Kitty Rice Cooker includes a hinged lid, nonstick-coated inner bowl, and can be operated with one touch. Like, literally, it only has one option. It takes the thinking out of it! On top of that, this cooker from Zojirushi generates heat from the sides, bottom, and lid, ensuring your rice cooks and keeps warm evenly. Everybody wins here.

If your main concern when picking up one of the best mini rice cookers is portability, then you'll be very happy with the Dash Mini Rice Cooker. With a 2-cup capacity, it allows for easy portion control, can cook your rice quickly, and can even be used to steam other foods too if that's something you're into. It's great for people with small kitchens, or even those who want a more portable rice cooker. Plus, look at it, it's really quite adorable.
What I love about the Aroma Housewares Rice Cooker + Steamer is that it offers two simple, essential cooking methods without taking up any extra counter space. (Sure, a little more vertical space, but you weren't going to store anything on top of it, anyway, right?) Even though it's multifunctional, one touch is all it takes to operate this truly set-it-and-forget-it machine. Imagine being able to make rice and a steamed vegetable side, simultaneously, without creating extra dishes to wash or exerting any effort at all during the cooking process. Now imagine it's only $20. It exists! You're welcome.
If you've got a big budget but without the kitchen to match, you can't do better than the Cuckoo Twin Pressure Rice Cooker. Admittedly, this isn't super-mini; it's about twice the size of the other ones on this list, and therefore is cheating. But I couldn't not recommend it. The prestige Korean brand offers everything from an energy-saving smart algorithm that automatically detects your chosen grain to ... well, you can't really top that as a product feature, can you? If you're willing to shell out for something that will make a lot of rice at once and do it perfectly every time, get this one, and then be a dear and invite me for dinner.
This story was originally published by Sophy Ziss on 02/02/2022 and was updated with new information by Jason Coles on 04/08/2022.