Featured Deal: GOOLOO 1500A Peak SuperSafe Car Jump Starter | $50 (clip coupon + promo code: UDQ34XOM)
These are the best GOOLOO deals for June 2020.
Car trouble can strike when you least expect it, and you won't always be in a spot to call a friend or family member to rescue you. That's why it's smart to carry a jump starter in your ride, and GOOLOO offers some of the most affordable and well-reviewed options around.
With a variety of capacities, features, and price points, you're sure to find something that both fits your needs and budget. Many of GOOLOO's top products are on sale right now, and we've collected the best deals below.
Clip coupon on page

G/O Media may get a commission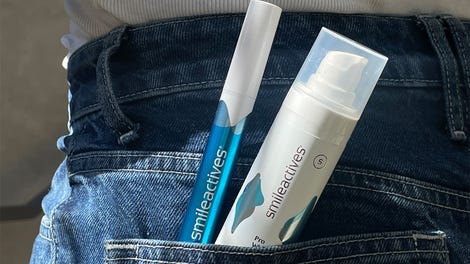 58% off
Whitening Powerhouse Pen & Gel Duo
GOOLOO's smart battery charger is used to refill and maintain 6V and 12V vehicle batteries under 100Ah, including cars, motorbikes, lawnmowers, small trucks, boats, and more.

The 12V battery charger has a six-step process that ensures a safe and effective process, and avoids overcharging your battery. It also has maintenance processes to keep your battery healthy. Clip the coupon on the page to save 20% off the $37 list price.
Clip coupon and use promo code UDQ34XOM
Jump start safely and effectively with GOOLOO's 1500A Peak SuperSafe car jump starter. It has a special clamp to make the process as safe as possible, which is great if you're fidgety about the whole idea of interacting with your car battery.
It also has a built-in flashlight and SOS mode for when car trouble strikes. Best of all, you can snag it for $30 off right now by clipping the coupon on the page and then inputting promo code UDQ34XOM at checkout.
Clip coupon on page
This jump starter is built for the long haul. Clamps are made from metal to take years of use and abuse. Boasting 4000A Peak current, it has a built in system of eight different types of protection, and can jump start vehicles running on gas and diesel, from boats to trucks.
This rugged but still conveniently hand-held machine comes with USB-C cable and type-C to type-C cable.
Clip coupon on page
Few purchases can save you from so many future headaches as this car jump starter. This compact machine, capable of waking up 12 volt batteries (in most cases), works on any of the machines you would really, right this moment, like it to, from boats to lownmowers.
With an LCD screen that will alert you when its batteries are running low and two USB outputs for easy charging, you'll soon wonder how you did without it.

Clip coupon on page
This handy handheld device is the perfect backup for any power loss that would ruin your day. Not only can it revive your car or motorcycle with up to a 4.5 L gas engine, it can also juice up your small electronics, from phones to tablets.
With an LED flashlight built in, that's one less thing you need to worry about adding to your emergency supply bag. And it comes with plenty of accessories, including a jump cable and a micro-USB cable.

Clip coupon on page
Never leave your travels up to the kindness of strangers again (at least, when it comes to getting a jump for your car). This jump starter can wake up any engine up to 10.0 L Gas or 7.0 L diesel.
With an eye to safety, its jumper clamp protects you in eight unique ways, and a USB port makes it a lifesaver for all your devices. Accessories include a storage case and a wall charger.

Clip coupon on page
Small yet mighty, this super portable car jump starter is ready to bring all your devices and vehicles ( up to 4.5 L gas) back to life with 500 amps of current.
And if you're on the fence about adding it to your emergency supplies, extended warranties (covering 6 months and a year) are available to make sure you never suffer from buyer's remorse. Clip the coupon on the page to save $5 off the list price.

Clip coupon on page
Down $7 from the list price right now when you clip the coupon, GOOLOO's 800A Peak SuperSafe Car Jump Starter is an ideal all-around model for many users, providing enough juice to jump-start most 12V vehicles on the road.
It also has a meaty 18,000mAh battery pack that can share its charge with smartphones, tablets, and more, plus a versatile built-in LED light.
Once you've stocked up on all your jump starters, you'll need a safe and convenient place to store them. Enter this lightweight, yet tough carrying case. Its multiple mesh pockets to make organizing your stockpile simple (and seeing what you've got just as easy).
Water repellent and shockproof, it's definitely up to nearly any situation you could throw at it.

Once you've made sure your car is ready to hit the road (and prepared to get back on it, even if you did forget to turn your headlights off), you'll want to make sure the interior is being thought of with just as much care as the battery.
Though this compact vacuum is powerful, it won't get you any noise complaints (noise output is only 75dB). And with a HEPA filter, you can be confident your seats and floors will be crumb and pet hair-free.
Clip coupon on page
Take the stress out of your tie safety with this portable pump. A built in LED light means filling up a tire on a dark road is no sweat, and a nearly ten foot power cord means no awkward charging situations.
Keep it in your trunk for emergencies and power it with your car's cigarette lighter, or keep it in the garage to tackle flat balls and pool toys. Save 5% off the list price by clipping the coupon on the page.
---