Hey SG, I just moved into my first apartment without a roommate. I have most of the basics (bed, dresser, kitchen table, tv, etc) but I need some help with making it look like... "my" place. Do you have recommendations for where to buy cool home stuff that isn't too expensive? I like having people over and don't want to be embarrassed if I bring a girl back and she sees my tastes in the light of day (if I'm lucky). Any advice appreciated.
-Mike
---
Mike! We totally get it. Furnishing your first grown up pad is exciting, but it can be overwhelming, too. Like you said, you want it to feel like "your" place, all while trying to figure out what the hell that actually means.

As interior designer Shelly Lynch-Sparks told us, "Just keep in mind the end result and what you want to accomplish." That means, a home with a sense of style that doesn't fall back on decorating habits you may have leaned on in the past, like turning your personal space into a shrine to your various interests. ("A friend" once found herself in the apartment of a guy who displayed his favorite sneakers on professionally-lit shelves in his living room. Not impressed.)

To help you out, we've got a short list of our go-to decor resources that are indeed affordable and whose products will instantly make your pad feel more homey...but not in a "Bless this mess" throw pillow on the couch kind of way.

Invest in a stylish, timeless couch
G/O Media may get a commission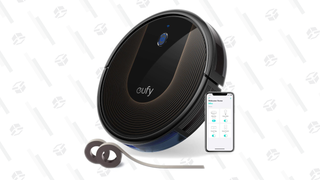 48% Off
Eufy BoostIQ RoboVac
"Your first apartment comes with a fresh independence that you'll want to explore when creating a style for the space," says Alex Kubo of Burrow, one of our favorite DTC furniture brands. "For furniture, stick with well-designed, timeless, quality pieces that will last through this lease and your next (and your next)."

If it helps, think of your couch like your perfect leather jacket—if you're willing to splurge at least a little, it'll be an investment piece you hold onto and take care of for years to come.
Dani Shuval of fellow furniture upstart Campaign agrees. "Invest in a sofa or loveseat with simple, clean lines—no hand-me-downs or Craigslist!"

And Mike? She's right. Honestly we can't emphasize this enough. Do not skimp on your couch. You will regret it every time you settle in for a Netflix binge or a hangover nap and can't, you know, settle in.

Shuval also suggests investing in dark fabrics like navy and grey that won't show their wear as quickly and will "go" with most of the other colors in your home. Navy and grey function as neutrals at home, just like they do in your wardrobe.

What we're saying is, there's way more out there today than West Elm for a style-savvy fella like yourself (no offense to West Elm, really). Do the leg work...from your couch...and really take the time to find the couch that's right for you.

Both Campaign and Burrow make seating designed for lazy millennials with good taste (that's a compliment, we swear)—their couches and chairs ship in manageable-sized boxes and can be assembled at home with literally zero tools. Perfect for city dwellers who move more than they'd like to, or who live at the top of an aggressive flight of stairs.

Build out your living space with accent furniture
Accent furniture is anything that helps fill your space but isn't "essential." Like a side table for a lamp and some classy art books, or a nice-looking bar cart.

Got a little more space to fill? "If you have room for them," notes Shuval, "a few accent chairs will tie the room together (and create extra seating for watching the game)."

Will you ever sit in said chairs or peruse said-art books? Who's to say. But if everything in your home were functional, it'd probably be a little boring. Pieces like these will be what make your living room or bedroom really feel finished and welcoming.
Cultivate some houseplants
Nothing telegraphs to the world "I'm interested in care-taking and being responsible" quite like a healthy house plant. They make a good impression on guests, they look nice, and according to environmental psychologist Sally Augustine, their pleasing shapes and green hues are good for your mental health.

Bonus: smaller (and admittedly very trendy) companies like The Sill and Bloomscape can ship plants to your front door, and you can buy them in a planter that's ready for display, which takes down the cost and effort on your end, too.
Put "cheap" art in nice frames
Are you ready for the most effective and inexpensive way to make your apartment look stylish and mature? Okay, here it is. Go to an online art source like AllPosters, Pop Chart Lab, or Society6, and find a print that speaks to you. It could be a Henri Matisse nude, an illustrated David Brodsky movie poster, or maybe an extremely-strange-but-awesome Obama art print—all of which are about $20 or less. Then send it off to the fine folks at direct-to-consumer framing service Framebridge (are you noticing a pattern here?) and let them help you select the perfect frame.

Voila, your "cheap" art is immediately a sophisticated and thoughtful addition to your apartment.
Use rugs to transform and define a room
"Rugs add warmth and texture to any room," says Shuval. "Especially the living and bedroom. They can be an investment, so if you're tight on budget, opt for a jute rug."

Now, we know it sounds basic, but don't overlook extremely practical resources like Amazon and IKEA when you're shopping for a rug. As Shuval mentioned, these bad boys can get really pricey, and both Amazon and Ikea offer not-crazy-expensive, stylish designs (think graphic black and white, or faux cow hides) that can set the tone of your whole decor "vibe."
Don't sleep on your bedding
You like what we did there? We've got jokes! But seriously, Mike, you mentioned bringing a girl back home, and we're here to tell you that if you are so lucky as to "take this to the bedroom," she's going to notice everything. Are your sheets soft? How many pillows do you have? Are they comfy? Is there a headboard? Are we on the ground or a couple feet above it?

Start from the ground up (literally) and get your bed on an actual frame—with a headboard. You won't believe how much more grown up your bed will suddenly look. And please, retire the ol' "everything's in a giant plastic box under the bed" scenario. If you need the space for storage, consider a set of wood drawers-on-wheels.
Seal the deal with high-quality down or down alternative pillows and a duvet (and a down or memory foam mattress topper if you're feeling bougie), and a couple of ultra-soft sheet sets so you can rotate without having "bad sheets" weeks. (Nobody likes those.)
---