Update: The original SoundBuds we wrote about here have since spawned an entire lineup of Anker headphones, including the reader-favorite SoundBuds Slim.
G/O Media may get a commission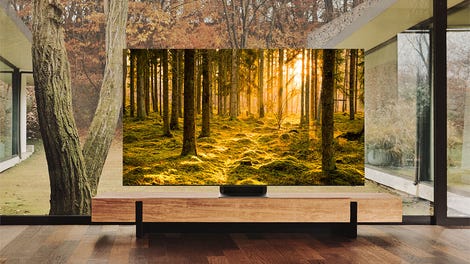 Up to 40% off
Samsung Smart TVs
The world's awash in sub-$30 Bluetooth earbuds, which is kind of a miracle. But if you don't feel like sorting through the deluge to pick a pair, might I recommend Anker's SoundBuds?

Granted, I'm no audiophile, but I think these things sound really good, all things considered. I'm sure you could find a set of wired headphones for the same price with slightly better sound quality, but when you're paying less than $30 for Bluetooth earbuds, you have to manage your expecatations.
Beyond that, the SoundBuds are well-built, have very good Bluetooth range, and yes, they stay in my ears. Most importantly though, they exhibit virtually zero lag when connected to my iPhone, which is critical if you're using them to watch videos. I've tried wireless earbuds that ran as much as two seconds behind what was happening on screen, so this wasn't exactly a gimme.
Like all Anker products though, it's the little details that set these earbuds apart. I mean, just look at the awesome carrying case they include:
And all of the included earbud tips (which match the color of the cable, natch):
And the little Velcro cable tie attached to the charging cable:

Oh yeah, and they're magnetic too, just for kicks, much like another pair of your favorite cheap headphones.
The SoundBuds cost a few bucks more than most entry-level Bluetooth headphones, but personally, I think these little touches make them well worth the premium.

---