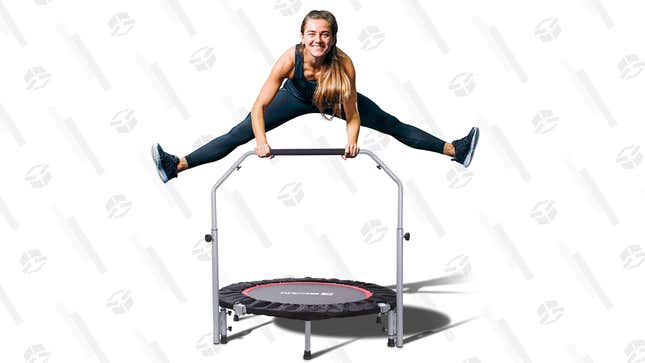 Most of us could probably use a bit more time in our day exercising. Treadmills or stationary bikes are a great way to get some cardio in at home, but there's just one problem. That crap's boring. Just one foot in front of the other? Indefinitely? Come on, we can do better. How about instead we bounce up and down joyously? Just 10 minutes daily on this trampoline can burn calories and strengthen blood circulation equivalent to an hour of running. So not only is it more fun but more efficient too. The trampoline is collapsible making it easy to store when not in use. This mini trampoline for adults doesn't just serve as a fitness rebounder, but it could also be a kids trampoline. People of all ages enjoy bouncing.
Foldable Mini Trampoline | $119 | Amazon
The foldable trampoline typically goes for $200, but right now Amazon has it discounted by a whopping 41%, bringing the price down to $119. That amount of savings will have you bouncing with joy on par with the trampoline itself.