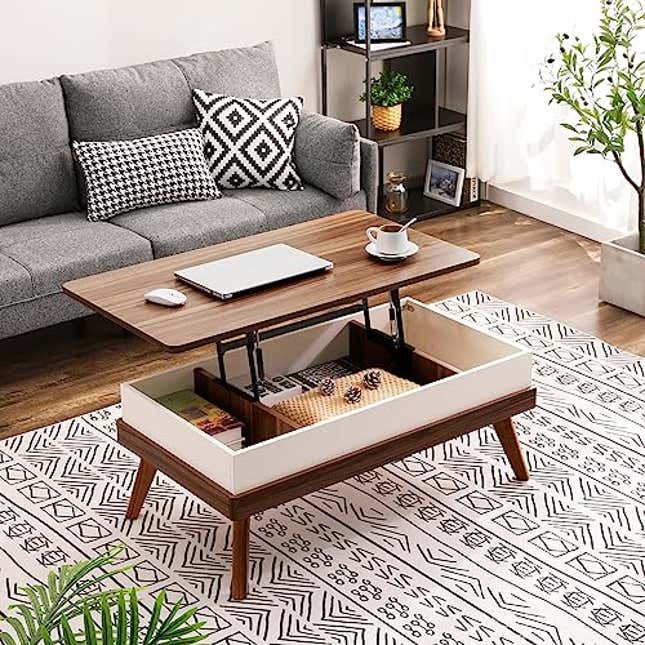 Bidiso has outdone itself yet again, offering a modern, easy-to-assemble, and multi-functional coffee table that caters to a variety of needs. With just a few clicks, you can now own the Bidiso Lift Top Coffee Table, a piece of furniture that exceeds your expectation in design and utility.
This innovative coffee table comes with a hidden storage compartment making it a ideal for both office and home environment. The Lift Top feature of the table provides a raised work surface, allowing it to double as a dining table or a desk. The high-quality metal mechanism ensures that the table top can be raised and lowered easily, quietly, and smoothly.
The Bidiso Lift Top Coffee Table integrates safety within its design – featuring rounded corners to prevent injuries and a slow, gentle closing mechanism that prevents any unexpected slams that could cause damage or pinch fingers. This feature proves especially valuable in homes with children.
In addition to its safety measures, this table offers ample hidden storage space. Simply lift the table top to reveal three compartments, perfect for decluttering your space. Store frequently used items like remote controllers, magazines, laptops, and more, helping keep your living or work space tidy and organized.
The Bidiso Lift Top Coffee Table is not only stylish but also durable. It's built with a combination of solid wood feet and high-strength particleboard, ensuring that this table is sturdy enough for long-term use. Its minimalist and neutral design makes it a perfect fit for any room style. And if for any reason it arrives damaged from transit, Bidiso ensures that their customers needn't worry as their proactive customer service is just a message away.
So why wait? Make your living or office space more stylish, modern, and versatile. Order the Bidiso Lift Top Coffee Table for 20% for Amazon Prime Day today!