Tell me if this sounds familiar: you've got a few items in your Amazon cart, and you head to checkout...only to realize you're a few bucks under the threshold for free shipping. Or maybe you've got an Add-On Item you need in two days, but Amazon requires a $25 total in order to ship it at all. Frustrating, right?

So you go to Google to look up "cheap stuff on Amazon," and you get a randomly generated list of filler, or a slideshow of novelty items like a pen that looks like a cactus, bikini lady golf tees, or a Mouse Rat t-shirt. (Okay, the Mouse Rat t-shirt is actually pretty cool). Or you find a site with a literal list of filler. Instead of letting you waste money on silly stuff, we set out to craft a list of things people probably don't have, but should...and while you can live without these today, you'll probably want them at some point soon. So save them in your cart for later, and grab 'em when you need a little extra for those Amazon benefits. They'll actually improve your life.
A Decent Box Cutter
I'm going a bit meta here for the first one, but if you're reading this list, there's a good chance you order a lot of stuff on Amazon. And if you're opening all those cardboard boxes with a pair of dull scissors, you're asking for trouble. I finally wised up and got a Gerber EAB for $8—it's cheap, slides right into your pocket or desk drawer, and makes opening cardboard boxes so much easier. If you don't trust yourself with a knife (or have kids around), you can get a safer (but less versatile) self-retracting knife, ceramic box cutter, or a pack of disposable safety cutters for the same price.

A Car Mount for Your Phone
G/O Media may get a commission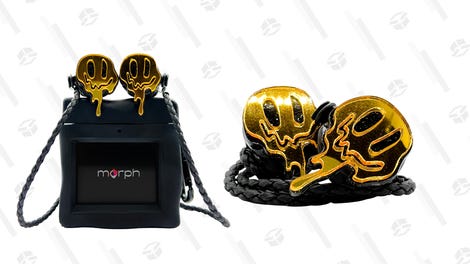 morph audio
Morph Earphones
I can't tell you how many of my friends sit their phones on their lap for turn-by-turn navigation, or hold it in one hand while steering with the other. There's really no excuse for that in 2018, when a two-pack of magnetic car mounts costs $8. Stick one on your A/C vent, put the magnet in your phone's case, and it'll pop right on whenever you're driving. If you don't use a case, or don't want to block your A/C vent, this universal suction cup mount is also great, at just over $10. Just please, please stop holding your phone in your hand while you drive.

Short Extension Cables for Your Surge Protectors

Surge protectors, while essential, are a big pain in the butt. Every time you go to plug something new in, you have to play Tetris with the collection of weirdly-shaped power bricks in the strip. Instead of buying an enormous, pricey surge protector with larger spacing, I opted for a few of these short extension cords. I just plug the power bricks into the extension cable, then plug the extension cable into the surge protector—no fuss, no muss. With all the new tech coming out these days, I find that having an extra one or two in my drawer is a life saver.

A Portable Luggage Scale
Ever been charged an extra $100 because your bag was overweight by a few pounds? Trust me, it's not fun. I'm still mad that I could have saved myself oodles of money with a cheap luggage scale like this one, and now I never take a long trip without it. (And it's already made up for its $10 price tag multiple times over.) You could use a bathroom scale, but if you don't have one where you're going—and you tend to come home with more stuff than you brought—you'll want one that fits in your bag.

A Mousepad (No, Seriously)
Wait, hear me out. Stop laughing, I'm serious. It may not be 1993 anymore, and optical mice work on just about any surface, but mousepads are still incredibly useful. And no, not because it increases your Call of Duty kill ratio by .01%—but because it protects your desk from your mouse. Mice can leave black marks all over the surface below, and in some cases I've even seen them chip away at the desk's surface, leaving scratches below the paint. A mousepad will take the brunt of this abuse, and at only $5, you can replace them whenever they get too gross. I actually use a large one that sits under my keyboard.

Durable, Braided USB Cables
You know that phone charger that's completely frayed to hell, but you keep using it anyway? It's not only unreliable, but probably a fire hazard. Instead of paying an arm and a leg for another flimsy, way-too-breakable cables, grab a braided cable with stronger joints at the end, like Anker's Powerline+ cables. The MicroUSB are very cheap, and USB-C comes in at just over $10, but sadly the Lightning cables are a bit over that limit we promised in the headline (Thanks, Apple). But you should probably own them anyway.
A Kitchen Knife Sharpener
Sharp knives are safer than dull knives...and they cut onions better, too. If you haven't sharpened your kitchen knives since you bought them, it's probably time. You can grab a decent sharpener very cheaply—the KitchenIQ Edge Grip sharpener and the Accusharp 001 are incredibly popular, affordable options, and they'll do the job quickly. They obviously won't give you professional-level results, but they're more than good enough for the average home cook with average knives. Anything is better than using a dull one.
Industrial Strength Velcro (For Your Furniture)
You know those little felt pads you stick on your chair and table legs to keep them from scratching the floor? Yeah, those suck. No matter what brand I buy, I've always found that they fall off and stick to other things after just a little bit of time on my chairs. I resigned myself to scratched up floors until a friend recommended a $5 pack of Industrial Strength Velcro. Take the fuzzy side, cut it to fit the size and shape of your furniture legs, and stick it on—ours have been going for three years with no sign of falling off, and our floor is much better for it.

A Ratcheting Screwdriver
Part of adulting is fixing stuff around your house or apartment, and that almost always requires the help of a Phillips head screwdriver. And sure, you could use the old rusty one you have lying around, but a ratcheting screwdriver—that allows you to drive a screw without letting go of the handle—is a total game-changer. This one from Stanley is very well-reviewed on Amazon and comes in under $7, with a small size that'll help you fit in tight corners. (If you have more demanding jobs, this larger one with more bits is fantastic, too.) Once you use a ratcheting screwdriver, all your other screwdrivers will be dead to you.

Household Items and Dash Buttons
Okay, I'm cheating a little bit here, but seriously: If you need something to put you over that free shipping threshold, household necessities are the perfect option. Even if you don't need more printer ink right now, you will soon, and you'll curse yourself for not having yellow ink on hand to print that black-and-white document. Similarly, you might think you don't need 9V batteries...until one of your smoke alarms starts chirping in the middle of the night and you have none on hand. Take inventory of your home, make a list, and save that stuff in your cart for when you need it. Dash Buttons are also great for putting you over the edge—they're only $5, and you'll get that $5 back as soon as you make an order with them (and they're mighty handy to have around).

---