Fresh Christmas trees, wreaths and garland are really lovely to decorate with, but oooooof what a mess. There are the needles that shed everywhere and then also … the sap. The sticky sap that gets all over your hands, your clothes, your car. The good news about cleaning up sap is that there are a lot of ways to do it. The less good-but-honestly-not-a-big-deal news is that some methods work better on skin versus a car's exterior versus fabrics and hides. Here are the details to know!
Removing Sap From Skin
Pine sap is a bit like blood [CHORUS: IT IS THE BLOOD OF TREES] in that there are lots and lots of good ways to clean it off of skin.
There are also some ways — like using paint thinner or mineral spirits — that, while they work, I wouldn't really recommend unless they're the only option. Mostly because there are things that perform just as well that are more accessible and gentler on skin! Here's a list:
Products that contain a high concentration of alcohol like hand sanitizer and nail polish remover.
Cooking oils, like olive or coconut
G/O Media may get a commission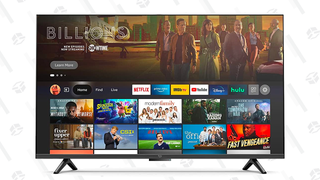 22% off
Amazon Fire TV - 50" Omni Series 4K - Early Access Deal
Peanut butter, too, because it's oily!
Rub salt between your hands.
But really there are LOTS of other ways, so if you have a favorite method of sap removal, go ahead and use the comments to tell us about it. If it's the one where you pee on your hands, I mean go with Goddess, but also: I've heard that one before :)


Removing Sap From a Car's Exterior
If you transport a tree on the roof of your car, it's likely that some sap will be left behind. The thing to be aware of here is that the car's clear coat and paint job can easily be damaged by using the wrong sap-removal product. So: Steer clear of paint thinner!
Two good options that are safe to use on a car are a bug and tar remover, like Turtle Wax Bug & Tar or, and this is a little strange but I promised it works and won't damage the car's clear coat, hand sanitizer. Yup! Straight rubbing alcohol works too.
Removing Sap From a Car's Interior (and Other Fabrics, Leather, Carpet etc.)
If you've stashed a smaller tree or a fresh wreath or garland in your car's interior, sap may get on the seats and/or floor mats. This is another place where rubbing alcohol or hand sanitizer can be used — including on leather seats, but be sure to go over the seat with a damp rag to remove the residue, as the alcohol can cause the leather to dry out.
And here's another fun one: If you have a can of WD-40 in the trunk (many people do!) it also works to take sap off of leather — same rule applies, though, go over the seat with a damp, sudsy rag to remove the WD-40 residue from the leather.
---