Top Product: Sherpa Weighted Throw Blanket | $70 | Amazon
Blankets are weird. They come in an array of different sizes, shapes, and materials. It means that, while you may have a good blanket you like to snuggle up under, you might not know what kind of blanket you're using, but maybe you're trying learn. What is a throw blanket then? What is a weighted throw blanket? What kind of sizes are they? What are they for? What does it all mean? Look, that's a lot of questions, but we're here to try and help you out.
What Size is a Throw Blanket
To put it very simply, a throw is a smaller blanket—usually around 50" x 60"—that you can drape over a couch or chair. It's not designed to be the kind of thing that you cover your whole body with, but rather something to cover your legs, or cozy up with while in the living room. A room might even have two or three throws, depending on the size of the room and how you want to decorate it, which raises another crucial distinction. A throw can be used just as much as decoration as for warmth.

The throw is the interior design equivalent of styling your hair to make it look oh-so-perfect-yet-totally-effortless at the same time. Because a pristine living room is so last year. A nice throw makes your living room look more casual, inviting. Like the kind of room someone, who is somewhat tidy but not a neat freak, lives in. Picking one that goes well with the rest of your home's aesthetic can be crucial to tying a whole room together. If you're not sure what kind of throw works best for your room, we've laid out a few options.
Basic throws often come in some form of fleece. You can find throws that lean more towards a faux fur look, or a more modern microfiber. You can pick a throw based on how much it matches your room's design just as much as how comfortable you find it.
G/O Media may get a commission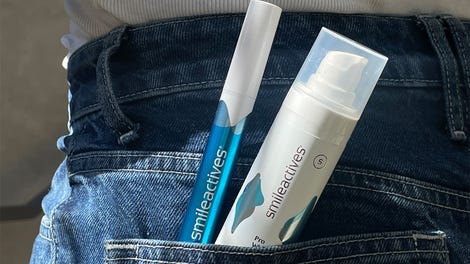 58% off
Whitening Powerhouse Pen & Gel Duo
What is a Weighted Throw Blanket
Then there are weighted throws, which are very similar to weighted blankets. As in the throw was manufactured with additional material like plastic beads or extra fabric to add extra weight. It can make for a much cozier than a typical throw and might even add a serene element to your evening at home. After all, who isn't struggling with anxiety in late-stage capitalism?

Finally, there are heated throws that plug into an outlet and provide extra heat (on top of your own trapped body heat). These can be a bit more expensive than your typical throws, so you might only want to go this route for the throw you plan to use every day.
However, you can also get cheap throws just to decorate your furniture, or even hang one on the wall. Take a look at the space in your home, see what might complement your existing decor. Or, you know, just get something snuggly.
This story was originally published by Eric Ravenscraft on 01/27/2021 and was updated with new information by Jason Coles on 03/09/2022.