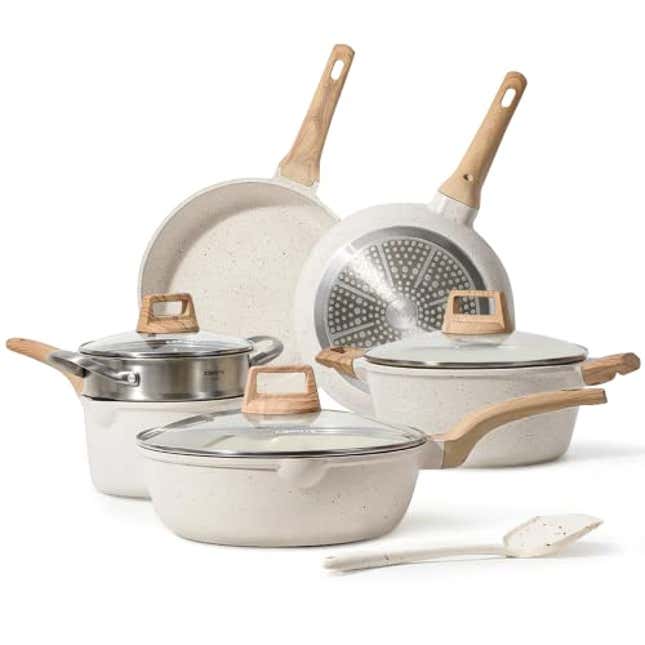 Are you tired of sticky, hard-to-clean pans that ruin your cooking experience? Look no further! The CAROTE Pots and Pans Set Nonstick, White Granite Induction Kitchen Cookware Sets is here to revolutionize your culinary adventures. With its stylish design, superior nonstick coating, and unbeatable price, this 10-piece cooking set is a must-have for every hip and modern kitchen enthusiast.
1. Premium Quality at an Unbeatable Price

Priced at $149.99, the CAROTE Pots and Pans Set may seem like a splurge. However, it is currently on sale with a massive 47% discount, available for just $79.99 on **Amazon**. This outstanding offer makes it a fantastic investment for homeowners and aspiring chefs on a budget. Don't miss out on this incredible deal if you want to save some serious cash without compromising on quality!
2. Efficient and Reliable Cooking Experience
Say goodbye to unevenly cooked meals! The CAROTE Pots and Pans Set features a nonstick coating that ensures effortless food release, even heat distribution, and quick cleanup. With these innovative features, you can easily sear, simmer, and sauté your favorite dishes to perfection. The set includes frying pans and saucepans suitable for various culinary needs, so you can unleash your inner chef and create a wide range of delightful recipes with ease.
3. Stylish Design to Complement Your Kitchen
Are you obsessed with contemporary kitchen aesthetics? The CAROTE Pots and Pans Set's elegant white granite finish will effortlessly elevate the style of your kitchen. Its sleek and modern look will impress your guests and add a touch of sophistication to your cooking experience. Show off your impeccable taste while enjoying the functionality and reliability of this exceptional cookware set.
4. Safety First: PFOS and PFOA Free
Concerned about harmful chemicals in your cookware? Worry no more! The CAROTE Pots and Pans Set is crafted with your health in mind. It is made without any trace of PFOS and PFOA, ensuring that your meals remain pristine and free from potentially harmful substances. Cook with confidence, knowing that your cooking set is safe for you and your loved ones.
Upgrade your culinary skills with the CAROTE Pots and Pans Set and experience the ultimate cooking convenience and style. With its exceptional quality, unbeatable price, and trendy design, this cookware set is a game-changer. Don't miss out on the special discount available on **Amazon** - order your set today and transform your kitchen into a hip cooking haven!