My kitchen cabinets are a mess. I'm aware of the problem, and I've been meaning to fix it for a long, long time. After many months of contemplating the organizational endeavor ahead of me, I've come to realize that a major contributor to this issue is the massive amounts of food storage containers I own, and their corresponding lids. So. Many. Lids.

But it doesn't have to be this way, as I recently discovered. A few weeks ago, I paid a visit to my mom's house, where I noticed this floppy, silicone, flower-shaped disc with no discernible purpose hanging out on the kitchen counter. My mom explained that, actually, the disc, which is officially known as the Zeal Push to Seal Kitchen Lid, is a one-size-fits-most cover that self-seals to fit pretty much any bowl, pot, Tupperware/Pyrex/Ziploc thing, etc. You're just supposed to place it atop the container of your choosing, then lightly press in on the center to let the air out, and — voila! — it sticks just like any regular lid would. I tried it with a glass container even though I was positive that as soon as I lifted it by holding the protruding center of the lid, it would clatter to the ground, shattering into a billion pieces and ruining some perfectly good leftovers. Luckily, the Zeal lid proved me wrong.
And because the lid is made of silicone, it's safe to use as cover on top of pots and pans on the stove, or on containers being heated in the microwave. Plus, it won't retain any weird smells or stains, and can go straight in the dishwasher — truly a pillar of convenience.
If flowers aren't your aesthetic, that's fair. Zeal makes other lids in fun shapes that could be more to your liking, including a strawberry one and a mushroom top. Cute!
G/O Media may get a commission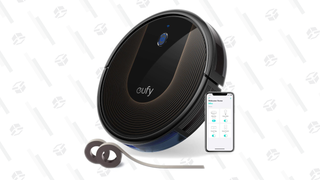 48% Off
Eufy BoostIQ RoboVac
And yes, for people who are no fun at all, there's a more conservative-looking option available as well.
I like the Zeal brand because their lids seem to be particularly thick and sturdy (plus they donate a portion of their profits to the The Honeybee Conservancy — save the bees!), but they're hardly the only brand that's figured out the convenience of self-sealing lids. Charles Viancin makes a wide range of lids in the same vein as Zeal (the smaller ones are great for covering beverages) and even a few useful lid sets.
If sets of different sizes seem like lids for you, it's also worth looking into these reasonably priced options as well.
Since integrating the lid (I got the flower one, because mother knows best) into my kitchen routine, it's passed the test on my relatively heavy Instant Pot Mini pot, as well as smaller Pyrex containers. But perhaps most valuably, I spend way less time sifting through hundreds of lids, trying to find the one that matches my chosen container. Maybe, when I finally do clean out my kitchen cabinets, I'll just get rid of all those lids, and go all in on the big, floppy, flower one instead.
---