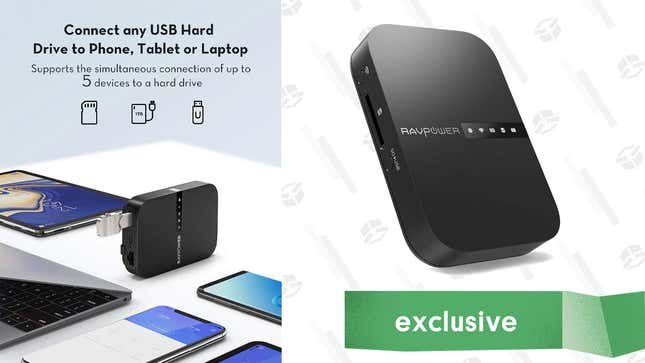 RAVPower Filehub | $36 | Amazon | Use promo code KJFILEHU

This RAVPower Filehub is a battery pack, an external storage device, and a portable WiFi router all rolled into one. You could say that it's the perfect travel companion. Here's what Whitson Gordon had to say about it on The Inventory:
You can see how things get a little complex here. The FileHub's best use cases, in my opinion, require a little technical know-how on things like DLNA and SMB, so while it isn't for everyone, it is useful, and has a pretty dedicated fanbase. I do wish the FileHub were a bit simpler to use, though—there's no option to just connect to the computer over USB, for example, which seems like a big oversight. And seeing as this is not RAV's first crack at the product line, you'd think they'd have a better handle on it by now.

But for all its little flaws and quirks, it's still a unique product that could fit well into a lot of different workflows, for a pretty affordable price.
It's normally priced at $56, but if you use our exclusive code KJFILEHU, you can pick up this super versatile hub for just $37. That's the lowest price we've ever seen. This deal won't last forever, so get yours before it disappears.
---