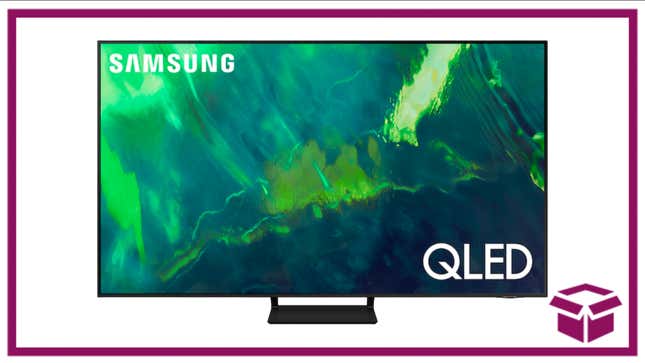 If you're ready to drop some cash on a TV, now's a great time to do it. You can score the 75-inch Samsung Q70A QLED 4K TV for a whopping $800 off. That knocks the price down to $1,500 from $2,300, which is 35% off. This is a lot of TV for the money, and it also happens to be one of the best 4K TVs you can buy right now, according to Gizmodo. And when Gizmodo recommends a TV, it's in your best interest to listen. After all, they're the experts when it comes to this sort of thing!

Samsung Q70A QLED 4K TV | $1,500 | Samsung
This model "checks a lot of boxes," according to Gizmodo's David Nield, including a 3840 x 2160 pixel resolution, "extensive" HDR support, three HDMI 2.0 ports and one HDMI 2.1 port, eARC compatibility, and 40W of built-in 2.2 channel audio with real-time intelligent optimization. But where Nield says it truly shines is the ability to adjust its picture on the fly via on-board processor. That way, it can match what you're watching and the same conditions as the room it's in. Sounds like a slam dunk to us. So go grab one of these TVs ASAP.