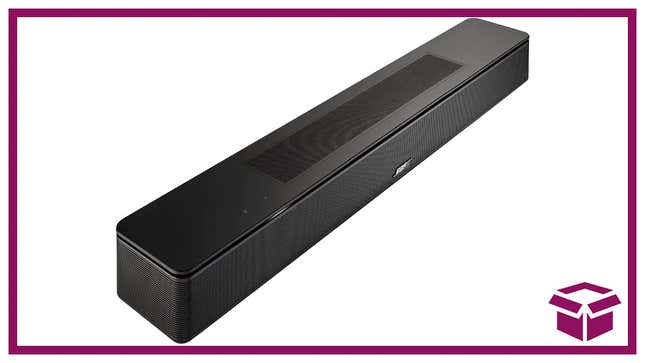 Modern TVs look great, but look, the reality is that they sound awful. The secret to great sounding movies, TV shows and more used to be 7.1 surround sound, now it's a good soundbar. The Bose Smart Soundbar 600 will help upgrade your movie night. In a slim 27.5" body, this soundbar packs five speakers, including two upward firing speakers that spreads sound across the room – left, right, forward, and overhead. Bose's proprietary TrueSpace technology analyzes a variety of audio signals – Dolby Atmos, stereo, 5.1 and more – and then intelligently and correctly up-mixes those signals to create a fully immersive sound for any sized room, essentially transporting you into your favorite action movie, the football stadium, or the concert hall.
 Bose Soundbar 600 Dolby Atmos |10% Off | $450 | Amazon 
Unlike the massive stereo systems of my dad's age, that featured different components, 19 speakers and a complicated array of wires to plug into different ports, this soundbar is incredibly easy to set up: You just need the included HDMI, eARC/ARC or optical audio cable – and it also features an app that walks you through set up, manages voice control for all devices connected to the soundbar, and much more. That's more time for you to catch up on season three of Succession!