It's not every day that someone 5'1" falls in love with a pair of wide-leg trousers without any tailoring. And yet, here we are.

When I first saw the Snap it Up Pants from ADAY, I was a bit confused. How is something "self hemming"? Why would you need to hem your own pants? Will they actually fit my body? But after putting them on and snapping the bottoms into place, I get it. I really, really get it.
Before I got them, I was having daydreams of bespoke pants at the push of a button a la Back to the Future II. Obviously, that's not the case. Because that was just a movie and some classic '80s ingenuity, and this is real life. Here's how they actually work: inside each pant leg is a series of snaps (they're actually quite hard to snap but rightfully so, as no one wants to have a hem come undone midday). All you need to do is snap them into place and the hem falls elegantly down, without looking like you just cuffed your pants and pinned them in place, which is something I have definitely done.
Besides the length, my biggest issue with trousers is the thigh area. It's either too big, and I get either a mess of fabric in the front, creating a lovely v-shape highlighting my crotch, or too small and the side pockets stick out, turning my lower half into a 10th grade geometry problem (If x is a pair of trousers made for a human, then y do I look like an isosceles triangle?). But I digress.
On a taller person's frame, these pants are a great length for sneakers when unsnapped, and cropped trousers when hemmed. But on me, the longer length was perfect for wearing heels, in case I wanted to go a bit business casual. Hemmed, they were at that almost-ground-skimming length that a short girl's fashion dreams are made of. They're two pants in one, which means you have an array of styling options as well.
G/O Media may get a commission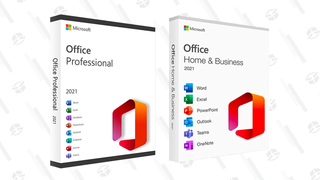 89% off
Microsoft Office Professional 2021 Lifetime License
The pants are made from ADAY's signature technical silk fabric, which means they're wrinkle-resistant, sweat wicking, breathable, quick drying, and stretchy. They're basically the perfect pair of trousers.
---