With four of the top five picks, Levi's dominated our men's jeans nominations, but it's time to button up the single best pair. Check out the finalists below, and don't forget to vote at the bottom of the post.

Speak of the devil, Levi's is currently running a 30% off sale.
---
G/O Media may get a commission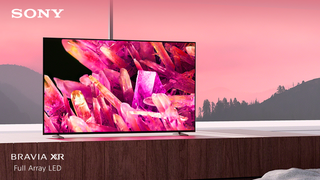 $400 off
Sony 55 Inch 4K Ultra HD TV X90K Series
These have been my go-to jean for years. Mainly because they are one of the few options that fit. I am a 38 waist, 28 inseam and my thighs are pretty large, everything else just feels like I am busting out of them. They hold up relatively well, but they usually hit the garbage when I end up crouching or throwing my leg over something and tear a big hole in the crotch. - rockhopjohn
Levi's 569 Loose Straight-Leg, because I'm a man, and I lift weights, so girly little skinny jeans don't work. If you wear skinny jeans, do some squats until you can't wear skinny jeans anymore. - DadWagonDriver
Editor's Note: I think a lot of the stars this got were sarcastic, but we'll roll with it.
---
Lucky Brand 221 Original Straight. Others may or may not like these, but for my body the fit is perfect. I've also never paid full price, usually get a pair for $40-$50 from TJ Maxx or Nordstrom Rack. - Fleetwood Mac Sex Pants
I wear nothing but Lucky Brand and have for the past 22 years. Once they've made their way through the wash a few times, there's nothing like 'em.

Marshall's always has a bunch on their racks for $40. I've found a few at Saver's with tags still on them for $20. - Diet Wedge
---
it's god damn 501 STF rigid you commies

your grandpappy didn't lose a thumb fighting krauts for you to wear anything else - notsomethingstructural
Came here to say this. Button fly shrink to fit. There can only be one. Its 501. - PonySlaystation
---
Agreed. I have at least three pairs of these right now. Slim enough legs to be fashionable and not look like you're going to a rave in the late 90s, but with enough room for my considerable rear end/thighs (I cycle and play hockey, which are both very upper leg & butt intensive. Also I just have a really big butt). - EmmJayDee
These are the only jeans I wear anymore. They feel more "fitted" than skinny. Be aware the stretch versions fit more comfortably, but wear faster. I've got a small hole in my left rear pocket from my George Costanza wallet after 2+ years of constant use. - babystapler
---
Levi's 511 Commuter jeans.

Slightly stretchy, very durable, re-enforced crotch, reflective piping inside the leg, so it's only visible if you roll up the cuff for biking. They fit great even if you've got a case of frog-legs from running and biking.

I've run 5k's while wearing them, parkour, bouldering, biking (duh), snowboarding, and more. And I can still wear them to meeting in the research lab.

They are a can-do-anything pair of jeans, they are the best choice, full stop. -Asymptote
---
---