It might not surprise you to know that any time I travel, I wind up thinking very deeply about what to wear. (Okay, okay, that also happens when I go on a date, or take a meeting, or ya know, leave the house to get a bagel on Saturday mornings.) I go into near-existential crisis as I consider how I want to feel on the plane, how I want to look walking through the airport, and how important it is that everyone who sees me believes I could be queuing up in the first class boarding line.

Don't worry—I'm not trying to give you outfit anxiety. Rather, I want to help you achieve your own travel ensemble enlightenment. After much trial and outfit-error, I've finally got that whole comfy-meets-sophisticated aesthetic down to an art. It's a balance between lounge and everyday pieces—and fit is key. (Sloppy vibes don't get an upgrade at the gate, y'all!)
The best part is, the most travel-ready items also happen to be crazy-versatile wardrobe wonders. You actually (probably) already own the best clothes to travel in because you also wear them to work on Fridays, for beach trips on the weekends, on those casual day dates...you get the idea.
Great news: Your new, super-good-looking travel layer is also your super-good-looking, wear-it-everywhere-all-summer layer!

This new half-zip from Bonobos is cozy enough to keep you happy on a long-ass flight, but so striking and fresh you'll want to wear it once you arrive in Maine, Monterey, or wherever your long summer weekends take you. It's got a high collar, pockets (love a pocket), and a blue-and-white color combo that looks good on absolutely everyone.
G/O Media may get a commission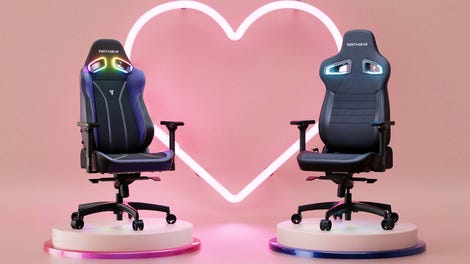 Up to $150 off
Vertagear Gaming Chairs
It can seem virtually impossible to achieve a "perfect" internal temperature. You're either extremely overheated or freezing. To achieve a Goldilocks-like happy medium, a strong layering game is essential. Everlane's Air Pocket Tee is a nice, lightweight slub cotton, perfect for layering under a sweatshirt or sweater so you can easily achieve a temp that's juuuuuust right. Also, the pocket (Pockets 2020!) is great for holding your ID while you make your way through security.

Like Dany flying on a dragon across the Seven Kingdoms to take down Cersei, Oliver's is coming for that "comfy men's pants" throne currently occupied by Lululemon.

What's great about Oliver's Passage pants is they've got the look of a pair of chinos with the comfort and kind of tech-y performance features of a workout pant. That's ideal for travel and sitting comfortably atop the Iron Throne.
A white sneaker makes for a great travel shoe (nailing that comfort-meets-stylish balance), especially if you have to hop off the plane and head right to a meeting or a meal. Not for nothing, they'll look great with pretty much everything inside your suitcase, too. We love the look of Veja's Brazilian-made low-top sneakers at SG HQ, and I've even been eyeing a pair for myself—especially because they use sustainably-sourced leather, mesh made from recycled plastic bottles and wild Amazonian rubber for the soles. Didn't you hear? It's exactly save-the-planet-o'clock right now.

Listen, I realize most of us have gotten smart and upgraded to that TSA PreCheck life, but in the event that you do have to remove your shoes at security, you don't want to be caught revealing a ratty, riddled-with-toe-holes socks—or worse, barefoot! These Stance socks are thin but strong, so your feet will be comfy and not-sweaty and not embarrassing should you have to slum it in the regular ol' security line.

Plus, no-show socks will prevent that dreaded "dorky tourist" look—they disappear under all your travel shoes and can even work with loafers and rolled chinos for a chill dinner on the beach.
I'm going big here and recommending a pair of Bluetooth headphones that are ideal for travel, or really anywhere you need some peace and quiet. I mean big, literally, because the fit on these bad boys covers your whole ear and looks a little obnoxious. But on a cross-country flight in economy or Amtrak ride from New York to Boston, you'll cherish the ability to tune out the crying babies, phone-talkers, and that guy behind you making his way through an entire bag of potato chips.

Oh, and they sound pretty good, too.
Yes, Timbuk2! Sure, this brand is known for that one messenger bag that every guy seems to inherit at age 25, but they also make some serious sleeper hit travel bags. Their backpacks are my absolute favorite for flying; they've got pockets and zips and places for all your travel essentials.

And listen, I know it's become de rigueur with most travel bags these days, but I love that strap on the back of the bag that allows you to slide it onto the handle of your roller bag. It's just so smart! And convenient! Genius!
---