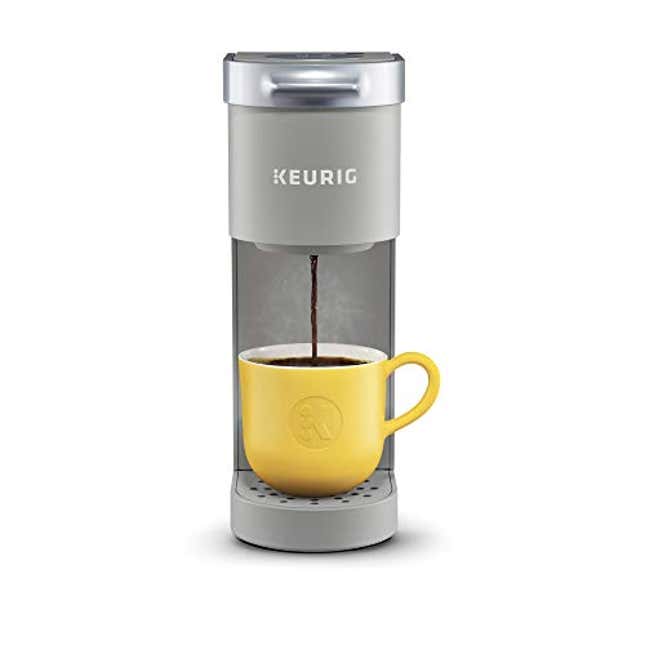 Today is a great day for coffee lovers on Amazon. The Keurig K-Mini Single Serve Coffee Maker, which is admired for its compact size and quality brew, is available for $84, down from $100 after a discount of 16%. Coffee enthusiasts, those living in small spaces, or simply fans of the Keurig brand should not miss out on this wonderful offer.
One highlight of the Keurig K-Mini Single Serve Coffee Maker is its slim and sleek design. Measuring less than 5 inches in width, it fits perfectly in tight spaces. Whether your kitchen is small or you want to keep your countertop clutter-free, this compact, efficient coffee maker is your go-to solution. Furthermore, it also offers you a range of brew sizes: you can enjoy a cup that is anywhere between 6-12oz.
The single cup reservoir makes brewing fresh coffee extraordinarily simple. You simply need to add fresh water for each brew, without the need to regulate the temperature or fuss over settings. In minutes, you will have hot, freshly brewed coffee ready to deliver a kickstart to your day. And for those that are always on the go, it's travel mug friendly and can accommodate mugs up to 7.0 inches tall, making your morning rush less of a hassle.
Another feature that sets the Keurig K-Mini Single Serve Coffee Maker apart is the innovative auto-off feature. This amazing innovation has dual benefits: it safeguards against accidental burns and contributes to reducing your energy footprint by switching off the coffee maker 90 seconds after brewing your last cup.
Compatible with the My K-Cup Universal Reusable Coffee Filter, the Keurig K-Mini Single Serve Coffee Maker allows you the flexibility of using your own ground coffee for more control over your brew's intensity, if you prefer. The coffee maker comes in a variety of matte-finish colors that adds to the modern look.
Ultimately, if you love coffee, convenience, and stylishly designed appliances, get the today. Not only will you get a coffee maker that's perfect for your needs, but you'll also be making an energy-efficient and economical choice.
This deal was originally published by Inventory Bot on 7/12/23 and updated with new information by Se Jeong Bae on 7/13/23 and 9/22/23.