The Inventory's 2018 Holiday Gift Guides) : title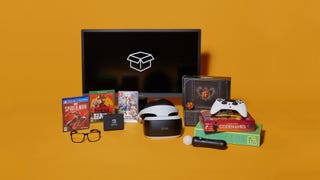 The Inventory's 2018 Holiday Gift Guides
We've rounded up all the best gifts for everyone in your life, from outdoor adventurers, to discerning gamers, to your annoyingly fashionable and attractive friends.
The rise of travel rewards credit cards seems to have turned everyone into a jet setter, but getting a plane ticket is just table stakes: These gift ideas will actually make the arduous process of getting from A to B just a bit more bearable.
---
Most hotel rooms have an iron, but if you're staying at an Airbnb, or just want to soften up a wrinkle or two without playing ironing board Tetris in your tiny hotel room, this little travel steamer can easily fit in your suitcase. Just hang your clothes and steam to release your wrinkles, or use the tiny ironing plate on the bottom to if they really need to be pressed.
Airports and planes are an assault on the senses, so a good pair of noise canceling headphones can help anyone find their happy place. Sony's WH1000XM2s boast some of the best noise cancelation on the market, and can drown out everything from engine noise to crying babies. And oh yeah, they also make music and podcasts sound really good, which is kind of important too.
I'm always surprised how many people just throw their bathroom stuff loose in the front of their suitcase at the last minute. Everyone should have a toiletry bag, and it should always be stocked with the essentials, because there's nothing worse than realizing you forgot to pack contact lens solution after getting to a hotel room at 1AM.
I love this water resistant kit from Gravel, which includes a pocket that's the perfect size for a toothbrush, another that's form-fitted for a stick of deodorant, and even one that's waterproof, in case any of your liquids explode en route.
There are a lot of factors that are out of our control when we travel. We can never totally avoid dehumanizing TSA procedures, flight delays, or ever-shrinking airplane seats. But one thing we can control is our luggage, and a good suitcase can do a lot to put your mind at ease.
Away's carry-ons have some of the smoothest spinner wheels out there, great organizational tools, and built-in (and ejectable, just for you, TSA!) battery packs for charging your phone at the gate. I've crammed enough in the standard sized carry-on for an entire week of travel, and it still fits comfortably in almost any overhead bin.
These airplane cocktail kits definitely fall into the category of things you should buy as gifts, and probably never buy for yourself, but they're a lot of fun. They include syrups, spoons, thimbles, and everything else you need to turn a standard liquor + soda airline drink into a proper cocktail. Just don't ask the flight attendants for fancy ice.
Packing cubes are basically luggage for your luggage, but hear me out. Not only do they compress clothes so you can fit more in your suitcase, they also keep your bag organized, so you can spend more time enjoying your trip, and less time unpacking. Eagle Creek's Pack It cubes and its lighter Specter line are some of our favorites.
Power outlets are still far too rare on airplanes, but the good news is that a lot of devices are moving over to the USB-C charging standard, including laptops, tablets, and even the ultimate airplane diversion: The Nintendo Switch. A USB-C Power Delivery battery pack like this reader-favorite from Anker can keep these gadgets up and running on even the longest flights, and perhaps more importantly, relieve battery anxiety simply by being in your suitcase.
Does the TRTL Travel Pillow look stupid? Yes. But you could say that about any travel pillow, and I can promise you that literally nobody on a redeye flight cares about your fashion choices. Rather than hot and bulky foam like most pillows, TRTL uses a system of ribs and just enough padding to provide a ton of support on one side of your neck, while remaining breathable and light. Travel pillow comfort is subjective, but I absolutely love this thing.


The year is 2018, and by now, you probably own a pair of Bluetooth headphones that you really like. Most over-ear models let you attach a headphone cable to use with a seatback entertainment screen, but a Bluetooth transmitter lets you listen to your in-flight movie on wireless earbuds. Just plug it into the headphone jack on your plane's entertainment screen, pair your headphones, and try to forget that you're in an aluminum tube seven miles above the ground.


Lounges are oases of calm in the capitalist hellscape of modern airport-cum-shopping malls. Anyone who doesn't have lounge access via airline status or a high-end travel rewards credit card will love a LoungeBuddy gift card, which grants access to a variety of lounges around the country. Just be warned that one trip to a lounge will spoil your giftee's airport experiences forevermore.
Need more gift ideas? You'll find them all here.