If you're selling $350 pre-packed survival bags and don't knock it out the park, at least you're prepared to disappear for a while.
Uncharted Supply Co.'s SEVENTY2 is a 35-item fully stocked bug out bag housed in a great, waterproof backpack. The items are organized using a removable grid, which can be carried on its own, transferred to a different bag, and refilled on your own or by purchasing refills from Uncharted.
Right off the bat, we love that Uncharted gives you the freedom to purchase only want you want or need- the whole system, the bag and insert empty, just the empty insert, or just the empty bag. If you're looking to build your own system from scratch, the $99 insert would be a great foundation.
Obviously, the 35 products included in the system aren't the best on the market, and you'd definitely save money by buying them individually (many of them are Kinja Deals fixtures), but almost everything included here is high quality. In the future, we'll put together a buying guide with our own recommendations.
I suppose if it's life or death I can use a Nalgene, but when I'm caught dead I won't be wearing a beanie with a pom pom.
G/O Media may get a commission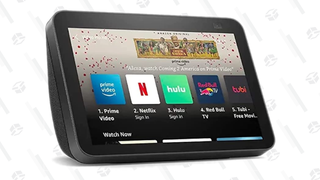 ---