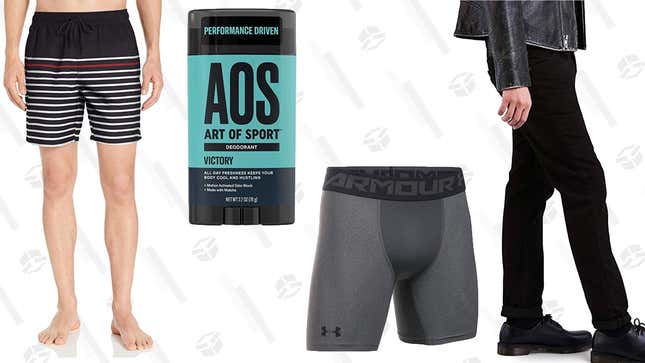 When it comes to men's fashion deals on Amazon Prime Day, your best bet is to stick to in-house brands (which often boast the best deals), big heritage brands that otherwise never go on sale, and up and coming grooming brands trying to make a dent in the Prime Day noise with new product launches.

Below, Team SG's favorite deals so far:
The closest you can get to wearing sneakers to an office where sneakers aren't allowed.
While just thinking about outerwear in a heatwave may make you break into a sweat, this military coat isn't going out of style anytime soon, and less than fifty bucks for a canvas coat is pretty hard to pass up.
Is it grey sweatpants season yet?
Don't sleep on Van Heusen's Prime Day offerings. This short sleeve shirt rings up at a quarter the cost of a Bonobos Riviera and comes in a whole bunch of different patterns to get you through the dog days of summer.
Designer Mark McNairy's latest fashion outing is the footwear brand New Republic, offering stylish footwear at a surprisingly affordable price.
Get your Armie Hammer on with this sweet deal on Adidas' iconic track pants in black.
Grooming deals on Prime Day? Why not? We can't let Amazon Fire Sticks (whatever that is..I cut the cord years ago and am VERY behind on TV technolgoy) have all the fun. Stock up on V76's Styling Cream, a medium hold product that works in pretty much every guy's hair.
Have to imagine the denim will go fast on Prime Day, so if you're in the market for new jeans, now's the time to scoop 'em up.
Under Armour's HeatGear is some of the best high-performance sports tech apparel in the game. Get their athlete-approved compression shorts right now for just twenty bucks.
Did you know you could not only drink matcha but put it under your armpits as well? This Prime Day product launch, from Kobe Bryant's new men's grooming startup Art of Sport, includes energizing matcha and moisture-wicking arrowroot powder in its ingredient lineup. It's making me look at my morning latte in a whole new way.
For $15, it's hard to say no to adding a new pair of trunks to your summer swimwear collection.


More to come, check back soon!
---