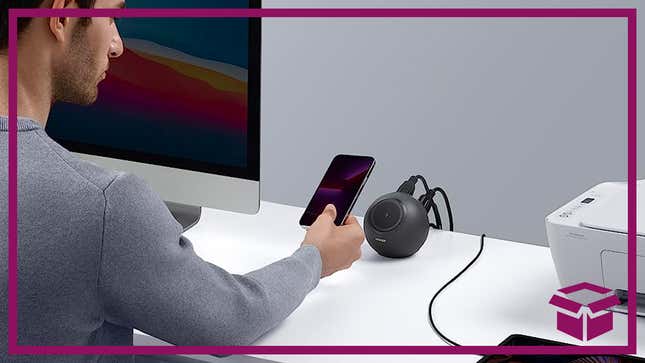 We've written about Anker a lot 'cause we love their pocket-sized phone batteries and massive camping-worthy power banks. Now, a new Anker has entered the arena: the 8-in-1 desktop power strip with magnetic charging. This delightful home office necessity is only $63 right now, 37% off the original price. Compatible with iPhones 12 and 13, this Anker has a strong magnetic connection and a fast charge.
Anker Magnetic Desktop Charging Station | $63 | 37% Off | Amazon
The "8-in-1" and "power strip" part refers to the Anker's three AC, two USB-A, and two USB-C outlets contained in its compact, spheroid shape. It's great for anyone with a Macbook Pro in their setup! A clutter-free alternative to—well, the alternative: clutter. Super handy and under $100—we choose to stan.