A Sous-vide circulator may be the best money you ever invest in your cooking, and the best cooking you ever do. With top brands dropping below $100 on Kinja Deals, and no-name brands even starting to come in under $50, is it worth paying up to eight times as much for Mellow?
Unlike the clip-on wand style sous-vide circulators we've all fallen in love with, Mellow is a complete system in one appliance. The best kitchen appliances, from KitchenAid Mixers to Breville Smart Ovens to Instant Pots, take up huge amounts of counter, cabinet, and/or shelf real estate. Mellow shares a similar footprint, while a Joule can fit in your utensil drawer.
G/O Media may get a commission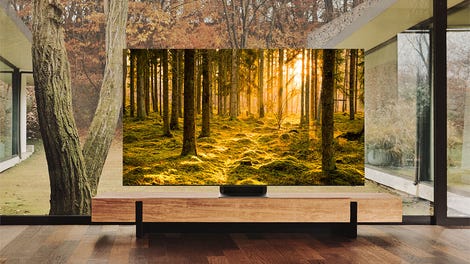 Up to 40% off
Samsung Smart TVs
Mellow's water tank is removable, double-walled, and has a lid, meaning it's easy to clean and energy efficient. It's also clear, which is fun, but you could always buy a cambro with a lid cut for your specific circulator to get a similar effect, with less efficiency.
Mellow sells their own brand of sous-vide bags for fifty cents/piece, but you can always just use Ziplocs or reusable silicone bags.
The... coolest feature of Mellow is the "refrigeration system,"- the option to keep your food cold and fresh in the water tank until it's time to start the cooking process.
Mellow is a joy to use and look at, but one of the greatest things about sous-vide cooking is that clamp-style circulators are basically in impulse price range when they go on sale at this point. Mellow is the luxury consumer sous-vide, and if you've got the counter space and the cash, go for it.
---