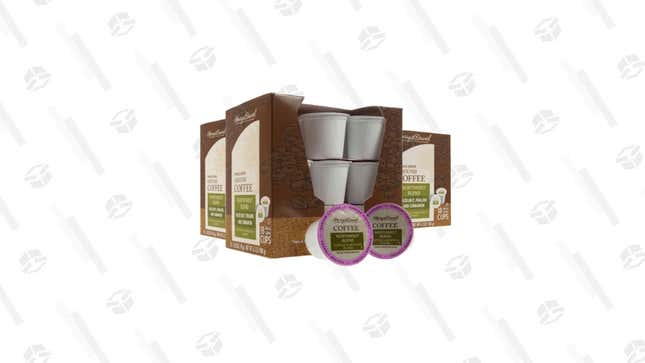 72-Pack: Harry & David Single Serve Coffee Pods | $19 | SideDeal
If you're a coffee pod enthusiast, you probably go through one or two a day. I'm definitely a fan of getting a perfectly measured full-strength cup of java every time I fire up the maker. Saving money on a good cup of joe is essential if you started making it at home to do just that. Grab this Harry & David Single Serve Coffee Pods bundle for only $19.
Single-serve pods are quick, convenient, and mean you won't be overestimating how much you might drink and wasting precious grounds. I've had Harry & David products over the years, usually around the holidays when a relative would gift me their famous Moose Munch, so I can say their stuff is great. This bundle includes four different packs for full-bodied fresh-brewed flavor for each energized cup you make. Not to get you too excited, but there is a Breakfast Blend, Northwest Blend, Chocolate Cherry Decadence, and Caramel Pecan. No matter which you choose, you'll be saving money and loving every sip.
If you've read a few of our pieces on SideDeal before and you like what you've seen, they offer a $5 monthly fee to get free shipping on all of your orders, no matter how many.
This deal was originally posted by Sheilah Villari in October 2020 and updated new information on 3/04/2020.