Warning: the next paragraph features minor Succession spoilers.
In an exquisitely excruciating scene in the season finale of Succession, Cousin Greg spiraled into a panic upon boarding his Uncle Logan's boat and being asked, as all boating people are, to remove his shoes. "Sails out, nails out, bro," Kendall Roy quipped to a stammering Greg(ory). The source of his panic was this: Gross looking nails that the boat's aesthetician declared were the result of a benign fungus. The thing is, benign fungal infections are actually really easy to treat! So don't wait until you're on a boat with your sociopathic cousins to take care of your nail infections — if you notice that your nails are discolored (don't click that link!) grab one of these over-the-counter fungal treatments.
Pen applicators have a thin brush tip, almost like you're going to eliminate the nail fungus using calligraphy as your weapon. To use the pen, first soak your feet for 5 minutes, dry them well, then run the brush tip around the cuticle and over the entire nail. Keeping the infected nail clipped short will also allow you to access the underside of the nail and nail bed with the pen. A pen is a good choice for people with smaller nails.

G/O Media may get a commission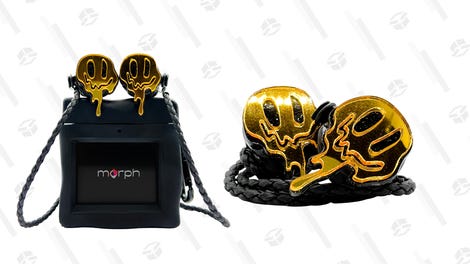 morph audio
Morph Earphones
Brush-on fungal treatments work similarly to pen applicators, but may be easier for people with larger, wider nails to use. The brush is affixed to the bottle cap, so using a brush-on treatment is very much like applying nail varnish — except you can and should absolutely color outside the lines, so to speak. Brush the anti-fungal liquid around the cuticle of the infected nail, allowing it to absorb for at least 5 minutes before you wash your hands or feet.

If you have more than one infected nail, a cream is probably going to be a better choice than the pen or brush fungal treatments. A cream allows you to be a bit less precise in your application — simply use your hands to smear the stuff over the infected nails and cuticle area.

Dropper bottle applications are a bit messier, but if the fungal infection is in a hard-to-reach spot, like between toes or deep at the base of the nail, the dropper's ability to flood the nail and the cuticle or the space between toes will be an advantage. As with all the other options, keeping the nail clipped and filed short will help make the treatment more effective.

Weird but true: Vick VapoRub, the stuff for congestion, also works for many people as an anti-fungal treatment! One nice thing about using VapoRub is that its thicker formula makes it a bit less messy to apply — though of course, unlike the other options it does have a distinct smell to it. The other nice thing is that it has other uses, so if you buy some to treat your toes so they look nice in barefoot weather, you'll also have it on hand when that inevitable winter cold rolls around.