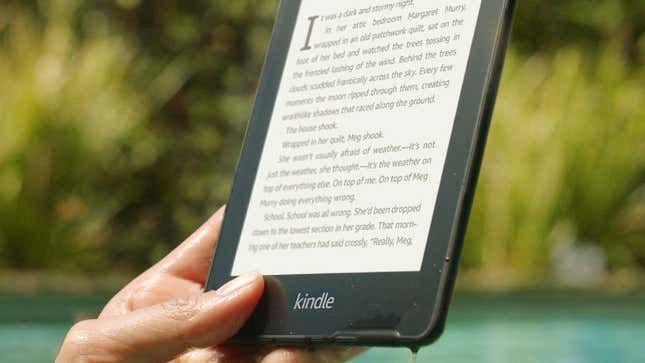 Kindle Paperwhite (8GB) | $85 | Amazon
Kindle Paperwhite (32GB) | $105 | Amazon
Kindle | $60 | Amazon
Tired of scrolling through the news every night? Maybe a Kindle may help you unwind after a long day without having to slog through Tweets and articles that might just bum you out. Enter Amazon's Kindle Paperwhite, which is waterproof and has a lit display for night-time reading.
Typically, the base model with 8GB storage costs $130, but right now it's down to $85. The 32GB edition is $55 off at $105, meanwhile. Both of those are ad-supported versions that show lock screen ads, but you can buy the ad-less version for an extra $20 (or pay the fee later to remove the ads).

If you want something a bit simpler, the base Kindle model is just $60 right now. It has the same-sized screen (albeit less crisp) but it lacks the Paperwhite's waterproofing. Still, it'll get the job done and it's $30 off right now for the ad-supported version. As above, it's an extra $20 for the version without ads.
This deal was originally published by Jordan McMahon in October 2020 and updated by Andrew Hayward with new information on 07/20/2021. 

---