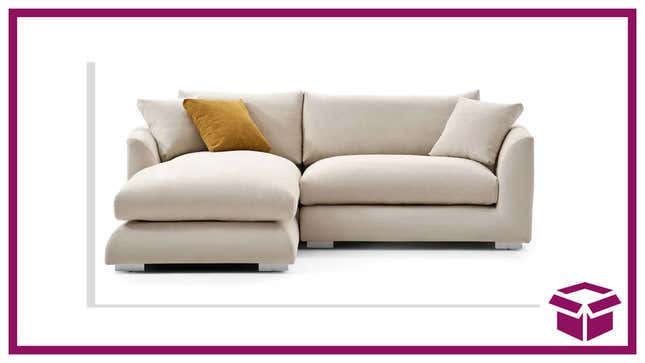 Picking a sofa can be tough — you want serious comfort, enough room to stretch out, and durability so it'll survive spills, pets, or kids (or all three). Of course, nice design doesn't hurt either. But finding this combination at a great price isn't easy. That's why we're so intrigued with this deal from Valyou Furniture on its uber-popular Feathers Sectional, now over 64 percent off. This sofa comes in two colors and four sizes, so you can make sure it fits your space and decor perfectly. And it has a strong five-star rating, with literally thousands of people praising its softness, stain resistance, and smart silhouette. With this deal, you can save over $2700 (!) on the 88-inch version and even more on bigger sizes.
Feathers Sectional | Save over $2700 | Valyou Furniture 
We're not kidding about this sectional's popularity. Reviewers say it stacks up well against high-end sectionals at much higher price points. And everyone loves the color choices (beige and grey) and its "elegant-but-still-welcoming" vibe. The durability is real — the cushion covers are water-resistant, stain-resistant, and washable. But the best selling point is this sectional's comfort, delivered with a signature HD memory foam and fiber blend. With this deal, you can get this sectional for over $2700 off at Valyou Furniture.