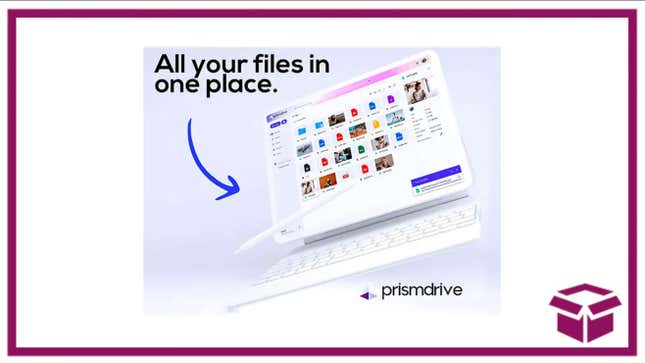 If you have tons of files you're regularly wrangling, cloud storage is a great option. Not only is it secure, but you get plenty of space to play around with. It can also save you tons of money, and we've got a deal that'll keep you positively swimming in data. Right now, you can score a Prism Drive Secure Cloud Storage Lifetime Subscription now from StackSocial with 20TB of storage for just $100 and keep your files with you and accessible via cloud wherever you go! Not only is that 93% off, which we have to tell you is a ridiculously good discount, but let us reiterate: that's for life. You'll always have access to your subscription!
Prism Drive Secure Cloud Storage 20TB: Lifetime Subscription | $100 | StackSocial
So, here's the deal. With 20TB of cloud storage and unlimited shared traffic, you can throw pretty much any type of file (XLS, PPT, MP4, JPEG, etc) onto the cloud for easy access anywhere you are. That means even if you leave the house, forget your hard drive or something like that, and need access now, you're still good to go. And you don't even have to pay a premium. This cloud is fully compliant with security laws, so it's extremely secure. Easily create sharable links to share with friends or colleagues. With file preview, you only download what you need at the moment. Act fast, though — this sale won't last for long!
This story was originally published by Brittany Vincent on 7/25/2023 and updated with new information by Riley Blackwell on 8/10/2023, by Blake McCourt on 8/22/23, and by Brittany Vincent on 9/7/2023.